Some times when you are in dire need of talktime and you can't get your mobile phone recharged then you remember your friend or family member who can transfer some talktime in your mobile number.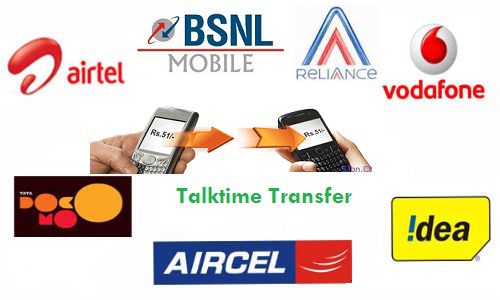 Talktime Transfer can be widely used and one find it the most useful in emergency when one has insufficient balance in his/her prepaid mobile number. Here it must be noted that talktime can be transferred to withing the network of mobile operator only i.e. you can't transfer talktime from Airtel number to Reliance Communication number.
Now let us check methods of transfer of talktime from one prepaid mobile to another mobile of seven mobile operators Airtel, Tata DoCoMo, Idea, Vodafone, Aircel, BSNL and Reliance Communications.
Mobile Operator
Method of talktime transfer
To avail this service dial *141# on Airtel Mobile and Select 1 "share Talktime" then a Enter the Desired mobile number in which you want to share talktime. Now it will ask for the Amount. Enter the Amount you want to Transfer. balance will be transferred to the Desired Airtel Number. You can share a minimum of amount of Rs. 5 and a maximum amount of Rs. 30 with your friends provided you have a minimum balance of Rs. 10 post deduction (inclusive of service fee). You can share talk time upto 5 times a day and 30 times in a month. You can share talktime with 10 unique friends every month. You can also share 5 gift packs such as Voice minutes, SMS or GPRS in a day and upto 30 in a month. To be able to send a gift, you should be using your airtel prepaid connection for 60 days or more.
To Transfer talktime, Tata Docomo user need to be Subscribed in BUDDYNET service.
To transfer talktime, Member need to type "BT Mobile Number amount" and send it to 54321
To reverse the Amount, a Member needs to type "RBTTransaction ID" and send it to 54321.

Sending SMS to 54321 for talktime Transfer will be charged at Re.1 and for reversal, it is Toll Free.

Conditions:
The sender's account balance for "Balance Transfer" has to be Transfer Amount + Rs.1 at the time of transfer. If balance is not sufficient the transfer will be declined. However, the SMS will be charged.
In case of Reversals the amount reversed will be dependent on the balance available with the recipient.
The system will recognize "BT" or "bt" or "Bt"
For Example to Transfer Rs.25 Talk-time from 9030012abc to 9030099efg . The sender types "BT 9030099efg 25″ and SMS to 54321.
Step 1: The taker mobile have to send SMS 'ASK'Donor Mobile NoAmount. to 55567. Here taker mobile number is the number who seeks talktime from donor mobile number.

Step-2: Then the Donor Mobile number will confirm your (taker mobile number) request by Sending SMS as 'GIVE'Mobile NoAmount and send it to 55567
then You have Done…!

Conditions:
1. You Will Be Charged Rs/- 2 For This Method.
2. You Must Have Balance Transfer More Than Rs/-11

Idea users can also transfer by sending ussd code in the following format.
*567*mobile number*amount#
Idea charge Rs 2 for each transaction as processing fee.
To transfer the talktime you have to dial *131*Amount*Mobile No#
Conditions is that your mobile number must be at least 3 Months old then you can transfer the talktime.

Alternatively you may send following SMS to 144 (toll free):
TRAN (amount u want to transfer) (phone number of your friend)

To transfer the talktime you have to dial *122*666# and follow the instructions.

Minimum transfer amount is rs 5 and maximum transfer amount is rs 100.

Processing fee is rs 1 per transaction and you can do only one transaction per day.

Balance transfer is possible between two prepaid numbers only.
To transfer talktime BSNL have also gift service and for this you just have to send SMS as
GIFTmobile numberand send it to>> 53733. You may gift Rs 5 to Rs 50 only.
To transfer the talktime first you have to dial *367*3#

Then enter *312*3# and mobile(mdn) number

Enter the amount you want to transfer

Enter the PIN.default PIN is 1
Category: Call Rates, How to
I have always been a fan of writing and love to share information on latest technologies, mobiles, gadgets and social media. Sharing and acquiring knowledge is a boon, do let's share as well as acquire it. I am very much fond of Coffee.