Tata DoCoMo launches a new Japanees waterproof 3G smartphone Fujitsu F-074 and is offering it to its customers for Rs 21900 only.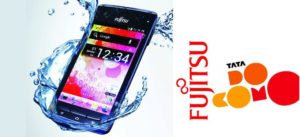 This smartphonw F-074 is a super slim phone and is 6.7mm thick and weight 105 grams only
This smartphone Fujitsu F074 is a ultra-tough and has scratch-resistant glass-equipped AMOLED capacitive touch screen display wherein its brightness gets adjusted automatically to the intensity of sunlight. This phone is latest Android 4.0 ICS operating system and also has a 5MP rear camera. The F-074 comes with the Motion Conscious Audio system which checks the environment and modulates the incoming voice to give you clear voice quality.
The smartphone is offered with a lifetime free premium number and free 3G data for three months capped at 1GB of data per month by Tata Docomo to its postpaid customers. Moreover, if you opt for unlimited plan of 899 GSM postpay plan then you can avail unlimited local and STD calls to any network.  If any Prepay user buys the smartphone and recharge with FRC 250, they will get 1 GB data for next two months.
Category: Call Rates, Mobile Phones
I am tehnocrate and love to share my views and technical knowledge on all types of topics related to telecom, social media and gadgets. I just love tea and food.