One of my contacts today added me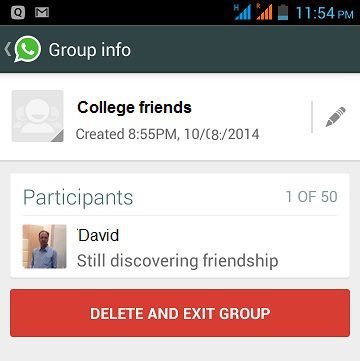 along with his all other close friends in a Group on WhatsApp and all of them bombarded with messages. I am not habitual to read so many bulk messages so beep on every notifications of each message also annoying me. I searched the web but I couldn't find any satisfactory answer to my query.
There is no way in the WhatsApp messenger directly to stop the people adding you in Group Chat but now I found the other way solution and got the rid off such bulk messages from the group chat.
What I did, is explained below.
Whenever you are added to a group by your friend, you will start to get messages from all contacts in that group. And you will receive all these messages under that Group Name.
Select the group name and tap the menu
Now tap Group Info and scroll down till you get "Delete and Exit Group".
Tap this red button "Delete and Exit Group" and relax.
With this action, you are out of the group and all messages has also been deleted from your smartphone. So whenever you get any message on your WhatsApp regarding adding you in a group chat, you just have to delete that group and you will no longer will receive any message in that group chat.
This is the only way I found, if any of you have any other idea, please share in comments.
Category: Applications, How to
I have always been a fan of writing and love to share information on latest technologies, mobiles, gadgets and social media. Sharing and acquiring knowledge is a boon, do let's share as well as acquire it. I am very much fond of Coffee.