There may be a good penetration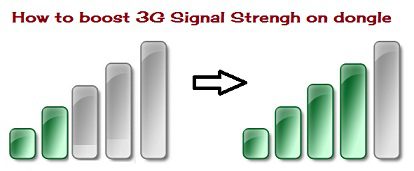 of 3G/4G network in urban areas but still there are some pockets in the city where consumers don't get good signal strength, blind spot, for smooth use of 3G/4G services. In Rural area also, 3G/4G services are not available at many places hence they even can't think using of 3G/4G services in rural areas. Consumers residing nearby a mobile tower may get good signal but still they miss good signal in interior part of a building.
If you search the web, you may find 3G signal boosters which works with all types of dongles but it costs you more than INR 8000.
There is also a tested homemade method by which you can get improved signal reception in the range of -85dBm to -75dBm.
As a thumb rule, the signal strength in the range -120 dBm to -95dBm considered Poor, with this signal strength, you may not be comfortable with your internet use. The signal strength range from -93dBm to -85dBm considered OK for use of internet but the signal strength from -83dBm to -75dBm is Good and if you get signal strength more than -75dBm to -50dBm, that is excellent signal strength, with full five signal bars on your dongle.
Following homemade project boost the 3G signal strength from Poor to OK / Good so that you can use Internet comfortably.
You need one sieve (used in houses for tea or rice), the bigger you get, it would be better.
One USB extension cable male to female for connecting between your USB dongle to USB port of Laptop/PC, you can buy it for approx INR 50.
Aluminum foil, you may find it in your kitchen where it is used to pack lunch box for Kids
Now make a big slit at the bottom of your sieve so that you can fit your USB extension cable and then connect 3G Dongle to this USB extension cable as shown in figure-2.
Next wrap Aluminum foil on both side of sieve, it looks like a "mini satellite" dish antenna. Mount it on a mini camera tripod or something which you find it suitable. This mini satellite dish converge the received signal at its periphery  and focus towards the center of sieve hence 3G dongle at this center of sieve get stronger signal strength.
Connect your 3G dongle to the laptop and now turn this "mini satellite" dish slowly left, right, up or down until you get the most optimum reception, keep a watch on signal bars on dongle application on laptop.
With this project, you get an improved 3G signal by 10 to 15 dBm i.e. from unstable 2-3 signal bars to stable 4 bars.
This homemade project cost roughly INR 150 to INR 200 but with this low cost, you get relaxed and can enjoy 3G services at far end from a mobile tower.
With this project, even consumers living within a  radius of 25Km to 30Km of mobile tower can enjoy 3G services.
This homemade project also works for 4G-LTE dongles because same principle applies there.
I hope, you will definitely get some more ideas for your homemade-project from below pictures, all are tested projects.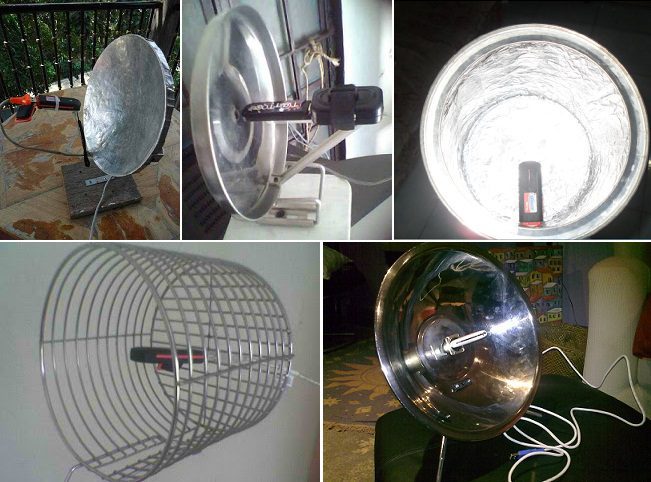 How it helped you ? don't forget to leave your experiences  in comments
Category: Data Usage, How to, Tablet
I have always been a fan of writing and love to share information on latest technologies, mobiles, gadgets and social media. Sharing and acquiring knowledge is a boon, do let's share as well as acquire it. I am very much fond of Coffee.