India's only two Govt owned PSUs, MTNL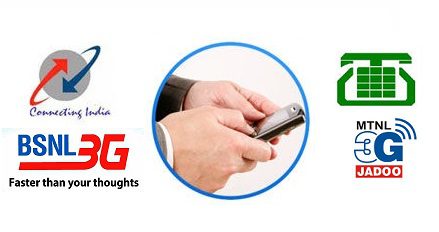 and BSNL provide 3G data services across the country, MTNL offers services in two metros, Delhi and Mumbai only while BSNL's 3G network covers rest part of the country.
Both PSUs revamped their data STVs as per trends in the telecom market. BSNL keeps price of data STVs almost same (variation may be +/- Rs 3 to Rs 5) across the country but MTNL, which operates in only two metros, have different sets of data STVs. You will see that a data STV which allows customers 6GB of data usage has variation of Rs 350, the data STV is priced at Rs 1199 in Delhi while same data STV is introduced recently in Mumbai for Rs 849.
Data STVs of MTNL and BSNL after recent revamp
MTNL, Mumbai has 1.3GB data STV priced irrationally at Rs 250, how is it irrational? Just see, if a customer loads two data STVs of Rs 99 for 500MB and Rs 126 for 800MB which combinely allows customer 1.3GB for just Rs 225 only.
MTNL, Delhi is more generous and allows you more data usage, you can see in above table that MTNL Delhi allows 250MB data for Rs 20 while MTNL, Mumbai allows 150MB for Rs 22.
MTNL, Delhi allows 10% more data usage in comparison to MTNL Mumbai in data STVs priced Rs 250, Rs 450.
In case of high data users MTNL, Delhi allows you double data usage, for example, in Delhi 200GB data STV is priced at Rs 4500 while MTNL, Mumbai allows you 100GB only for Rs 4500. (Now data STV of Rs 4500 have been withdrawn in Delhi). The data STV of Rs 5000 allows Delhiets 100GB while Mumaikar can use 50GB only within validity of 365 days.
BSNL have data STV utmost for 30GB data usage but its data STVs are more affordable and generously priced in comparison to MTNL.  MTNL has many more options and even for high data users, MTNL has high data STVs e.g. 50GB, 100GB and 200GB data STVs. MTNL also offers unlimited data STV, BSNL don't.
You can see that BSNL have two STVs for 500MB, three STVs for 1GB and two STVs for 2GB, actually out of these, four STVs are specially designed for those customers who love to watch live TV on the go. The STV of Rs 82, Rs 165, Rs 211 and Rs 291 allow watching free live TV in addition to bundled free data usage.
In comparison to private mobile operators, both PSUs have priced their data STVs cheaper in their working service areas.
Other things, you may discover at your own from above table and following link.
Cost of 1GB of all Mobile Operators
Category: Data Usage
I have always been a fan of writing and love to share information on latest technologies, mobiles, gadgets and social media. Sharing and acquiring knowledge is a boon, do let's share as well as acquire it. I am very much fond of Coffee.