With the launch of new two lines family for just $100, T-Mobile has again ignited competition in family share plan arena. T-Mobile has come up with $100 family plan which offers unlimited talk, text and 4G data for two family members and if more members want to be added, $40 is the fee for additional lines hence a family of four gets total bill of $180 only.
T-Mobile has also re-introduced its 4 line family plan for $100 allotting total 10 GB data plan in which each line receives unlimited talk, text and 2.5GB of 4G data per month. Customers continue to get data usage but T-Mobile slow down the data speed when a line cross 2.5GB data limit.
Sprint also has $100 plan for a family which offers 20GB sharable data among four lines, each line also gets unlimited talk and text feature.
Sprint also offers unlimited 4G data plan for $60 for any phones while for $50 for iPhone6 and iPhone6 Plus users.
Verizon and AT&T don't have unlimited data plan but its higher GB data plans are compared with T-Mobile's and Sprint's unlimited data plans as shown below.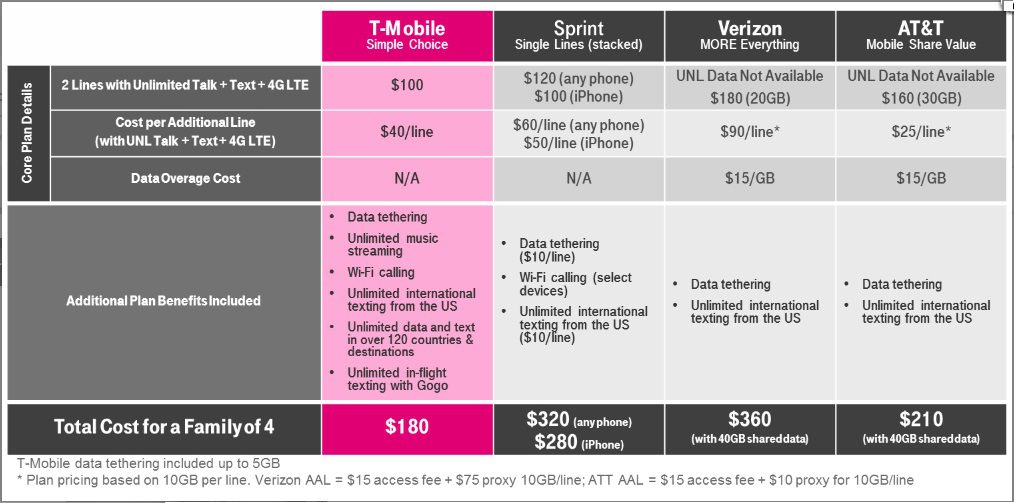 From above it looks that T-Mobile has brought cheapest family data plan but let us see what would be monthly bill for their customer.
Sprint offers iPhone 6 under  "iPhone for Life" lease plan for which customer pays $18 per month for 30 months but at the end customer can't own iPhone 6, it need to be upgrade. So for a two person under this plan their total bill comes $136 while at T-Mobile, customer would pay $100 for two line plus $27.08 per month for each iPhone 6 hence total bill for two lines becomes $154.16. This amount is little bit higher but at the end of 24 months, customer becomes owner of iPhone 6.
For smartphones other than iPhone 6, Sprint offers LG G3 Vigor for $10 per month while T-Mobile offer Lumia 635 for $5.41 per month so for a family of four members, total bill at Sprint would be $280 (includes $60 for unlimited plan)  if all member opt for LG G3 Vigor. At T-Mobile total bill for four members would be $201.64 if all members go for Lumia 635.
Choice is yours now.
Category: World Telecom
I have always been a fan of writing and love to share information on latest technologies, mobiles, gadgets and social media. Sharing and acquiring knowledge is a boon, do let's share as well as acquire it. I am very much fond of Coffee.