It is sure you will get best deal for your cell phone plan from a regional carrier than from three major national carriers in Canada. The regional carriers are basically subsidiaries of national carriers and provide services on the network of national carriers.
Let us find five best and cheapest cellphone plan considering a moderate demand of 300min voice calling, unlimited texting and at least 1GB data usage.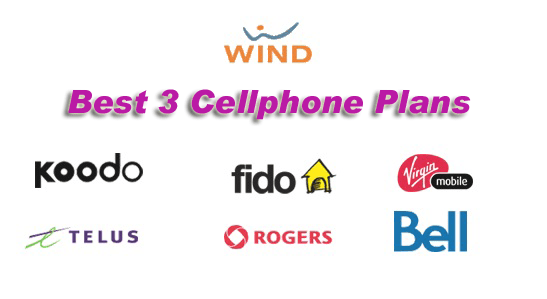 Koodo, a subsidiary of National Major carrier Telus and Fido, a subsidiary of Rogers Wireless offers affordable cell phone plans pricing $64 which offers you unlimited voice calling, texting and 1GB of data usage
But Wind Mobile, the fourth largest mobile operator of Canada, offers the cheapest cell phone plan at just $39 which allows you to use unlimited voice calls, texting and data with FUP plus free unlimited US roaming.
Virgin Mobile, an MVNO of Bell Mobility offers affordable plan at $39 which allow 300min voice calling, unlimited texting and 300MB data, you can load add-on of 1GB which cost additional $20 so you can manage your need with total of $59/mo
All three national mobile operators Rogers, Telus and Bell can fulfill your desire for $85/mo wherein they offer unlimited voice calling, texting and 1GB sharable data usage. But the beauty with these plan is that you can save more if you share among your family members.
If you pick 4GB sharable data plan for a family of four members, from any one of these three mobile operators, for $110 and add three more smartphones then total costs comes $290 hence effectively plan cost to each member is $72.5 and all members can enjoy unlimited voice calling, texting and 1GB data.
Category: Data Usage, World Telecom
I have always been a fan of writing and love to share information on latest technologies, mobiles, gadgets and social media. Sharing and acquiring knowledge is a boon, do let's share as well as acquire it. I am very much fond of Coffee.