Striving to be become Canada's fourth largest carrier, Wind Mobile had brought most attractive cellphone $39 plan. Presently it operates in three of Canada's most populous provinces: Ontario, British Columbia and Alberta.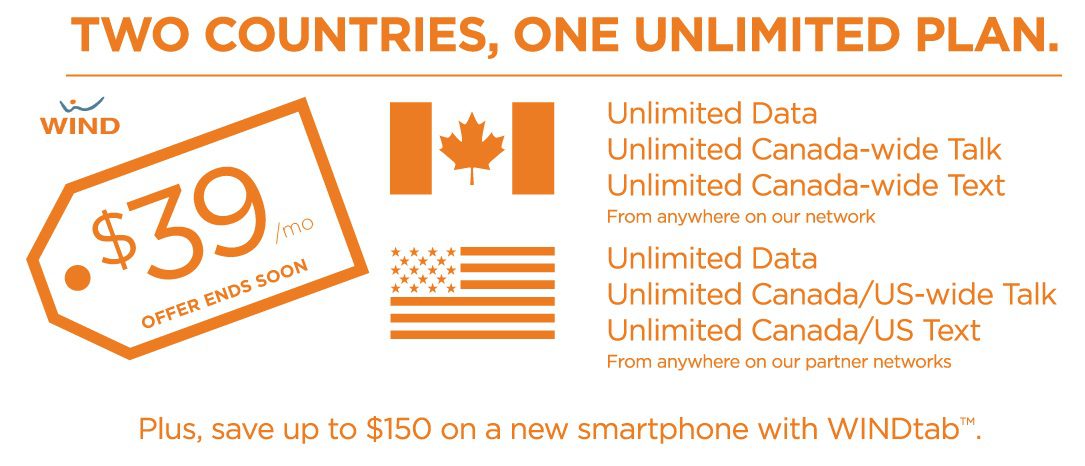 This $39 plan offers unlimited US roaming besides unlimited talk, text and data usage in Canada and carrier don't charge any hidden charge in the name of system access fee or activation fee.
The $39 plan was launched on April 14th , 2014 and was available till today. The plan got so much tremendous response that carrier notched record sales in both April and May and added 14000 net postpaid subscribers in May.
The success of this $39 plan is that it saves your $15 per month because the plan is blended with US roaming add-on which usually costs $15 per month.
Excited with the response of the plan, the carrier has extended the last date to subscribe this plan till end of July, 2014.
Just have a look on features of $39 plan
Save up to $150 in WINDtab
Unlimited US Roaming (Data, Talk and Text)
Unlimited Canada-wide Calling
Unlimited Canada-wide Texting
Unlimited Canada/US wide Picture/Video Messaging
Unlimited Data ( up to 5GB at high speed as per Fair Usage Policy)
Call Control (Caller ID, Missed Call Alerts, Conference Calling, Call Forwarding, Call Waiting)
No Hidden Fees, System Access Fees or Activation Fees
Category: World Telecom
I have always been a fan of writing and love to share information on latest technologies, mobiles, gadgets and social media. Sharing and acquiring knowledge is a boon, do let's share as well as acquire it. I am very much fond of Coffee.