iPhone 5 is the most

popular and best selling 4G LTE smartphone but this phone works on the 4G network of EE in UK only hence owner of these phones may also not be able to switch the operator to either Vodafone or O2 who are launching 4G services on 29 Aug in UK starting from London.
The Next best 4G phone is HTC One which has all the best specs of smartphone. Good news is that this phone will work on all three 4G network of UK i.e you may choose the best of all three Carriers, the existing one EE or new incumbents Vodafone or O2.
New customers may be confused by different options offered by carriers like Down payments, monthly payments, service plans, fees, and insurance etc. For ease, we're going to try and give you a complete picture of what you have to pay if you go for one of all these 4G carriers.
For the sake of convenience, we consider the 4G plan that offer unlimited talk and text and more than 2GB of data which we think  will be sufficient to be used on Smartphone in a month.
Let's break it down to see what EE, Vodafone and O2 offer and how much it cost you to own HTC One along with 4G plan but before this let us have a quick look on specifications and special features of HTC One, the reason, why we have chosen it.
The Key Specification of HTC One are: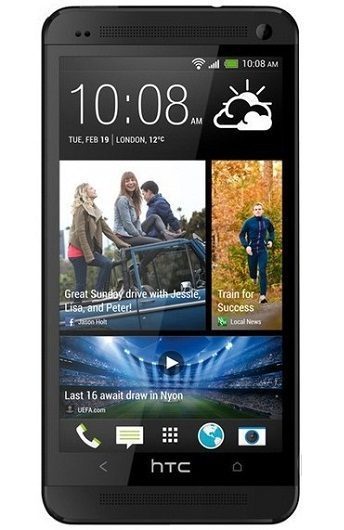 Display 4.7 inch scratch resistant Corning Gorilla LCD screen with resolution of 1080 x 1920 pixels, 468 ppi
Operating System: Android Jelly Bean v4.2.2 with Sense 5.0 UI
Processor: Quad core, 1.7GHz Qualcomm Snapdragon 600 APQ8064T
RAM: 2GB
Built in storage: 32GB without option of expansion
Camera: Rear camera 4 MP, front facing camera 2.1MP
Network support: LTE, HSPA (unspecified), UMTS, EDGE, GPRS
Connectivity: Wi-Fi 802.11 a, b, g, n, n 5GHz, ac, USB, HDMI, NFC, DLNA, MHL, Tethering, Computer sync, OTA sync, Infrared.
Battery : 2300 mAh Li-Polyemer battery
Weight: 143 gm
HTC One has Special Features like its rear camera allows you to remove objects from snapshots, adding some real photography editing wizardry to the mobile handset experience.
HTC One also has the ability to capture slow-motion video in 768 x 432 pixel resolution, and the handset can even be used as a remote control for your television and home theater system with its special onboard infrared sensor.
Also, the UltraPixel camcorder on the back of HTC One is capable of capturing up to 300% more light than the typical smartphone camera.
Now let us discuss about the cost to own this fantastic phone from Vodafone, O2 and EE.
| | Vodafone | O2 | EE |
| --- | --- | --- | --- |
| Upfront cost for HTC One | £0 | £249.99 | £29.99 |
| Monthly Payment | Included in plan | £10 | Included in plan |
| Contract #months | 24 months | 24 months | 24 months |
| Total device Payment | Not Applicable | £489.99 | Not Applicable |
| Unlimited talk, text and # data | £47 for 4GB data | £27 for 5GB data | £46 for 10GB data |
| Total monthly payment without insurance | £47 | £37 | £46 |
| Total cost after 24 months | £1128 | £1137.99 | £1133.99 |
Vodafone 4G Ready Plan:
Vodafone is entering 4G world in UK from 29 Aug with most competitive 4G plans starting with 1GB data plan including unlimited talk and text for £21 for the customer who prefer to bring their own 4G ready smartphone.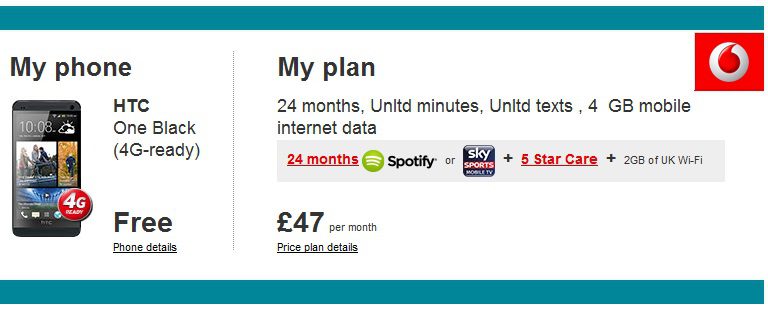 Those who want to enter 24 month agreement with carrier and plan to buy smartphone also, the carrier is going to offer smartphone free. To understand, let us take example, if user want to buy HTC One, it will cost £1128 excluding insurance. The company also offer insurance for theft and accidental damage of the device for additional payment of £6.99 per month.
O2 4G Airtime Plans:
O2 is also launching 4G Service from three places in UK, London, Bradford and Leeds from 29 Aug. The carrier is going to offer competitive 4G plans starting with 1GB data plan including unlimited talk and text for £26 for 24 month contract and who wants SIM only for their own 4G ready smartphone.

If you want to buy HTC One, a 4G ready phone from the carrier, it will cost you £1138 for a two year contract. This cost includes the plan which offers you 5GB of data if you go for the plan up to 31 October-2013. The customers who opt from November are also going to pay the same amount but they will avail only 3GB of data instead of 5GB data.
The price looks to be little higher than its rival Vodafone. You also have to pay an upfront cost for the device while the Vodafone has included the cost of device in its 4G plans.
EE: Superfast 4GEE Plans:
EE have enjoyed "the only 4G operator" till now from since its 4G services launched last year. EE offers a variety of 4G plans and it is the only operator who offer 20GB data plan for £51 for customer who enter into agreement for 24 months and buys phone from the carrier also. The same high data plan of 20GB is offered to customers for £61 who brings their own 4G ready phones.

The carrier also offer low data plans for conservative customers, its low data plan starts from 500MB. Now if you decide to buy HTC One from EE, it will cost you almost the same cost £1134 as Vodafone and O2 but the big difference here is that, you are entitled to use more 4G data 10GB of data as compared to 4GB data of Vodafone and O2. By choosing EE, you will also get advantage of wider coverage in London and other 95 places of UK which cover more than 60% population of UK.
Hope this post will help you in choosing the carrier.
Category: Data Usage, World Telecom
I have always been a fan of writing and love to share information on latest technologies, mobiles, gadgets and social media. Sharing and acquiring knowledge is a boon, do let's share as well as acquire it. I am very much fond of Coffee.