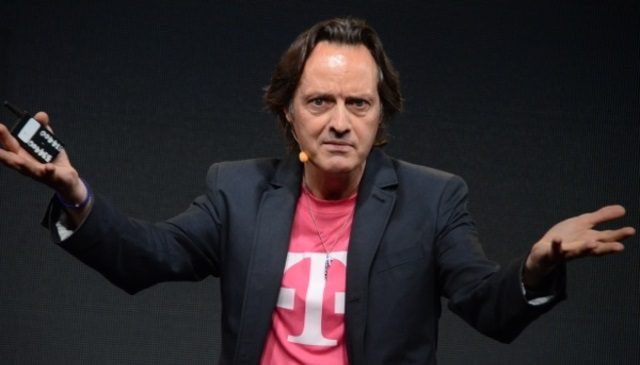 USA: T-Mobile has officially announced it own trade-in program for latest iPhone 6S  and 6S Plus with older version of iPhones or any other phones and it has made the deal sweeten by keeping unbeatable lowest monthly installments.
T-Mobile has kept the lowest monthly installment for iPhones 6S and 6S Plus in the range of $3 to $9 per month as per the storage capacity of iPhone 6S and 6S Plus phones.
In comparison to Sprint, which is offering iPhone 6S (16GB) at $15 per month, T-Mobile is offering the same device at unbeatable price of $5 per month if you trade-in your old iPhone 6 or other Samsung Galaxy phones. See the comparative prices in below table.
The complete press release by T-Mobile is as below.
T-Mobile Celebrates Record-Shattering Demand with Unbeatable $5 per Month Offer on iPhone 6s
On the heels of an unprecedented surge in T-Mobile's iPhone pre-orders over last year's record, the Un-carrier doubles down with the offer of iPhone 6s 16GB for an unbeatable $5 a month with JUMP! On Demand and an iPhone 6 trade-in
Bellevue, Washington — September 23, 2015 — On the cusp of iPhone 6s and iPhone 6s Plus availability, T-Mobile today announced it's doubling down on what was already an unprecedented offer on your new iPhone – unveiling an absolutely unbeatable $5 a month for iPhone 6s 16GB and $9 a month for iPhone 6s Plus 16GB with JUMP! On Demand and trade-in of an iPhone 6 or iPhone 6 Plus. This new offer is unmatched in the industry, building on an already record-breaking pre-order performance over last year at T-Mobile.
"With these incredible $5 and $10 a month deals, we're giving customers just one more reason to come to T-Mobile," said John Legere, president and CEO of T-Mobile. "This is a deal that only the Un-carrier could create, let alone make into a reality – and the crazy demand we're already seeing tells me the carriers' customers just aren't buying their BS anymore. For your new iPhone the choice couldn't be clearer."
T-Mobile's new pricing builds on the Un-carrier's straightforward $20 a month for a new iPhone 6s 16GB with JUMP! On Demand without a trade-in. Now, your trade-in value for any old phone you own brings that monthly price down even more – $10 a month with trade-in of iPhone 5s, Note 5 or Note edge and $15 a month with trade-in of almost any other phone you own like iPhone 5, iPhone 5c, Galaxy S4, Galaxy S3, HTC M8 and Motorola Droid Turbo. At T-Mobile, you'll get what your trade in is worth.
The Un-carrier's also doing right by those customers who already pre-ordered their new iPhone with trade-in, giving them the same great offer with an upfront bill credit. Below is a full breakdown of prices for iPhone 6s and iPhone 6s Plus with JUMP! On Demand and your trade-in: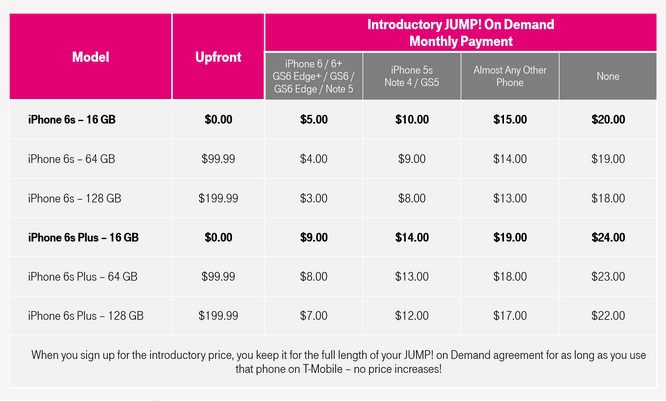 And, if you want to hang on to your iPhone after your 18 month JUMP! On Demand agreement is up, you can at T-Mobile for $125 LESS than the full retail price. That's just $524 for a new iPhone 6s 16GB. In fact, T-Mobile is the only provider offering iPhone 6s and iPhone 6s Plus at a discounted price.
Starting Friday, September 25th at 8:00 am local time, new iPhones will be available at participating T-Mobile stores nationwide, subject to inventory availability, and online at www.t-mobile.com/apple. For more information on iPhone, please visit: www.apple.com/iphone.
Monthly payment amount +taxes on 18-mo lease after monthly bill credits. 0% APR O.A.C for well-qual'd customers. If you cancel wireless service, promotional pricing ends and payments are up to $27/mo. Must return working device or pay it off to keep it at lease end. No security deposit. Not available with Carrier Freedom (device pay-off) or other trade-in offers. Qual'g service req'd.
About T-Mobile US, Inc.:
As America's Un-carrier, T-Mobile US, Inc. (NYSE: TMUS) is redefining the way consumers and businesses buy wireless services through leading product and service innovation. The Company's advanced nationwide 4G LTE network delivers outstanding wireless experiences for customers who are unwilling to compromise on quality and value. Based in Bellevue, Washington, T-Mobile US provides services through its subsidiaries and operates its flagship brands, T-Mobile and MetroPCS. It currently serves approximately 59 million wireless customers and provides products and services through approximately 70,000 total points of distribution. For more information, please visit http://www.t-mobile.com.
Source [T-Mobile]
Category: World Telecom
I have always been a fan of writing and love to share information on latest technologies, mobiles, gadgets and social media. Sharing and acquiring knowledge is a boon, do let's share as well as acquire it. I am very much fond of Coffee.