Luring customers from other carriers is still on and now the new entry is Sprint, who is bringing a similar ETF offer as T-Mobile brought earlier this year.
Starting from April 4, 2014 to May 8, 2014, Sprint is launching a limited time offer to pay early termination fee (ETF) to all those customers who will switch to Sprint and sign up its most popular Framily plan . The carrier is also offering to pay trade in value for their device up to $300 hence customers, who will switch to Sprint,  may get up to $650.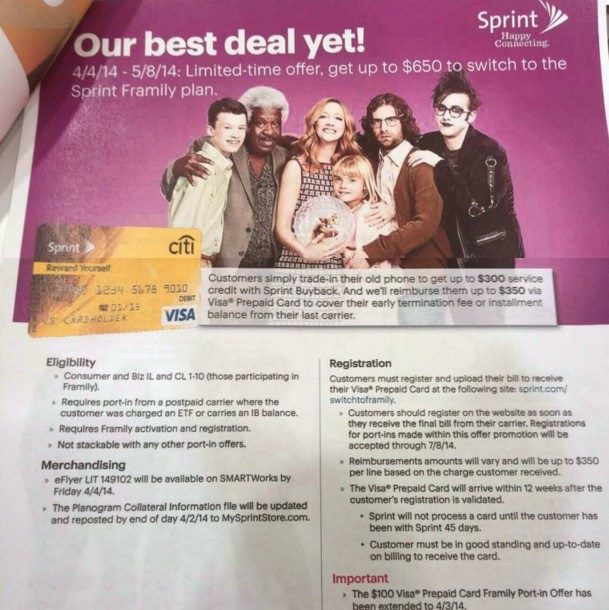 The Sprint's offer is $200 more than AT&T's credit offer. Sprint's ETF offer looks similar to T-Mobile but it is not like that, Sprint is not going to pay your ETF directly in your monthly bill, instead, carrier will give you $350 Visa Prepaid card within 12 weeks , after switching to its network. Sprint will give credit up to $300, for your old trade-in smartphone, in your monthly bill.
Reacting to this offer, T-Mobile's CMO, Mike Sievert, tweeted "I think @sprint has a crush on us. First copying Magenta, now our ETF offer? Warning: offer requires you use Sprint."
Mr John Legere, CEO, T-Mobile also tweeted reacting to this offer "If what I'm hearing about @Sprint paying off ETFs is true, that's #FruckedUp! You have the highest ETFs in the biz!, Oh @Sprint – you really #FruckedUp that imitation of our #uncarrier move! #ContractFreedom for all"
Sprint's Framily plan starts at $55 for one line and offers unlimited talk, text and 1GB data. As lines gets adding on, the monthly bill reduces up to $25 a month and no other carrier offers such low monthly service plan that is why this offer from Sprint is really the best deal ever.
Meanwhile, Sprint is making all out efforts to get more customers under its Framily plan and for which Sprint have launched  a limited period offer at Best Buy, from April 4 to April 13. Customers buying a new device through Sprint Easy Pay Plan and signing up for Framily plan, will get $100 credit from Best Buy.
Category: World Telecom
I have always been a fan of writing and love to share information on latest technologies, mobiles, gadgets and social media. Sharing and acquiring knowledge is a boon, do let's share as well as acquire it. I am very much fond of Coffee.