Smartphone market witnessed the launch of two exiting smartphones one after another with a small gap but both have compelled the budged conscious buyers to think twice before going to smart buy.
One side Micromax, popularly knows as budget/cheap phone makers in India, launched a fantastic samrtphone A1116 Canvas HD and other side, world's giant Samsung, popularly knows for luxury phone brand, launched budget smartphone Galaxy Grand I9080.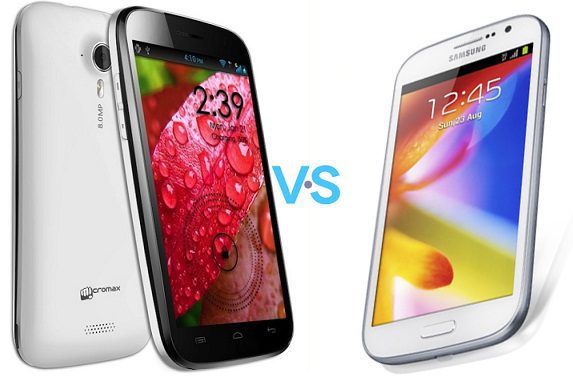 Both smartphones having huge 5 inch screen and other similarities, confused the budget smartphone buyers with the big question of what is really the difference between two ?, which one is to buy?, so here we are going to compare both smartphones. 
Brand Names
Micromax is popularly known as  a "Budget/cheap" phone maker for India, whereas Samsung is  the world's one of phone maker giant and is  enjoying the market name and prigs value of a luxury phone brand.
System on Chip (SOC)
The Micromax A116 is built on a Mediatek SOC while the Galaxy Grand is built on a 1.2 GHz processor Broadcom BCM28155 SoC. It comprises a pair of ARM Cortex-A9 cores and Broadcom's own VideoCore-IV graphics engine for 2D and 3D acceleration.
Dual SIM phones
Both the phones have Dual Sim with a slight difference of The Galaxy Grand is smart dual SIM i.e both SIMs are active always. While the Canvas HD currently also dual SIM but only one SIM active at a time.
Displays
The Canvas HD is having a fantastic 1280 x720 pixel packed in 5 inch IPS display while the Galaxy Grand comes with a 480 x800 pixel LCD display. But the colors are more vivid on the Galaxy Grand's display as opposed to the Micromax Canvas HD.
Cameras
Both features 8 MP camera's. The front camera on the Galaxy Grand is superior to the 0.3 MP basic front camera on the Canvas HD A116.
Operating System
Both smarphone runs on latest Android Jelly Bean OS. Samsung puts in a lot of effort into making a custom UI for their devices, along with several apps and tweaks. So Samsung definitely gets the upper hand here. With features like pop up play, direct call, multi window and most importantly an inbuilt task manager the Galaxy Grand gets the much needed upper hand here. Of course TouchWiz UI has several other features and good looking icons that most are aware of.
Micromax clearly looses here, the software is basic Android Jelly Bean, with a bit of customizations done by the Micromax Software Research team in conjunction with the manufacturers. The UI can become laggy and does not have the easy tweaks as seen in TouchWiz . However Micromax's UI offers several customizations and file access that is restricted in Samsung devices. You can almost install any app and replace the UI, But you will not get the fit and finish of a manufacturer made custom UI.
Price
In India its all about the price, and Samsung will loose here, miserably. The Galaxy Grand is priced at Rs. 21500, a higher price for budget minded buyers whereas the Micromax Canvas HD A116 has a MRP of 14999. This puts a big gap of Rs 8000 , an amount which in some cases could comprise of a monthly salary of working individuals.
Conclusion
Honestly, it cannot be tell which one will perform better than the other one but it almost depend on the price and quality. If one can wait then other Indian players like Karbonn and Lava are also in queue to announce quad core phones for budget buyers.
Category: Mobile Phones
I have always been a fan of writing and love to share information on latest technologies, mobiles, gadgets and social media. Sharing and acquiring knowledge is a boon, do let's share as well as acquire it. I am very much fond of Coffee.