We have seen that many mobile operators hiked

the SMS charges and even their STVs also had been revised to higher costs. Other alternatives to send free SMS, which are mostly websites, are also provide services of sending SMS of short length, mostly websites offers to send free SMS of  merely 140 characters.
While surfing the web, I come to know about one more site www.site2sms.com which offers the registered user to send unlimited free SMS up to 260 characters. It is the first of its kind website which is offering to send such a long SMS to any mobile number in India.
The site claims to deliver all SMS with super fast speed i.e. they say they deliver 95% SMS within 15 seconds.
Registering on the site is very simple, just fill up basic details and they will send password on your mobile phone so while registering on the site, keep your mobile phone with you.
Other features of the site are as follows.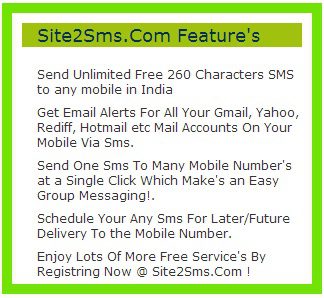 So, what are you waiting for now, use this site and bombard with SMS on your all loving ones friends and family members.
Category: Call Rates, How to
I am tehnocrate and love to share my views and technical knowledge on all types of topics related to telecom, social media and gadgets. I just love tea and food. Follow me on