MWC (Mobile World Congress) is going to be a great event in 2013 at Barcelona, Spain from 25-28 February where many mobile technologies and innovative apps will be unveiled.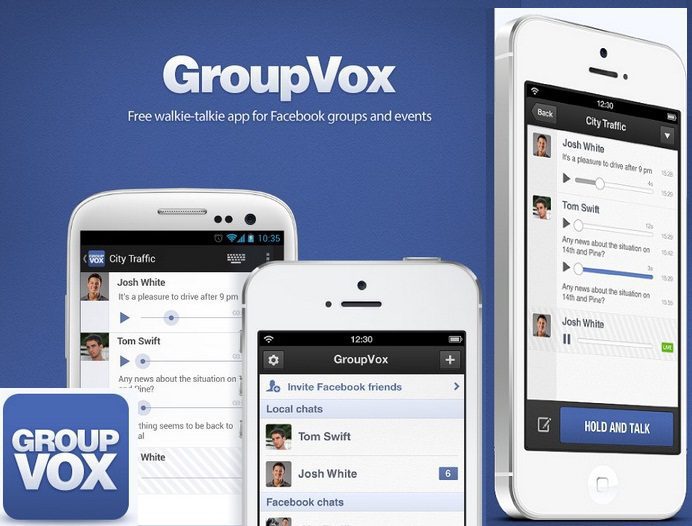 During my facebook conversation, I come in contact with one team member of GroupVox and she shared latest updates about their mobile apps GropuVox Walkie-talkie and they are also going to launch it in MWC 2013.
Yes it is walkie talkie, some of us may be surprised by the name but history repeats. GroupVox has repeated the history with innovative ideas. The GroupVox is the unique crossplatform application which enables the facebook users to deliver live voice messaging (Push to talk) to existing facebook groups and events. This is the first and only app to make facebook group voice conversation possible. GroupVox is easy as well as user-friendly. It is available for Android,Apple iOS smartphones and web.
GroupVox applies Facebook messaging system for the transfer of short audio messages. This has been designed to be useful for transferring to another user through private messaging and to group chats among multiple users through Facebook groups.
The best part is that this is very easy to setup and don't demand many earlier configurations. Once it is done, all the Facebook friends of you will be appearing as the 'friends' on GroupVox. To see your all facebook friends on GroupVox, it must be ensured that your friend have also installed GroupVox app on his/her smartphone otherwise you may invite him/her on GroupVox. To start with, just select a friend, or start a group chat and press a button for the start of speaking and then keep holding until you are done with your message. Next, the message is going to play on the phone of the receiver.
Other features of GroupVox apps are
Group voice chat for Facebook groups
Send your frind a voice note
Send free text and photo messages to a friend or a group
Listen to live voice chat stream or browse chat history on Facebook group page

Play voice message anytime or listen to them live

Stay in touch with your facebook group
Web based player on your other devices/laptop/desktop etc.
So now install the apps on your device and enjoy group voice conversation. The GroupVox is available for free download at App Store and Google Play!
Click here to live demo of GroupVox apps
Click here to download for Android
Click here to download for iOS
Category: Social Media, Telecom Gyaan
I am tehnocrate and love to share my views and technical knowledge on all types of topics related to telecom, social media and gadgets. I just love tea and food. Follow me on