Targeting the youth and young professionals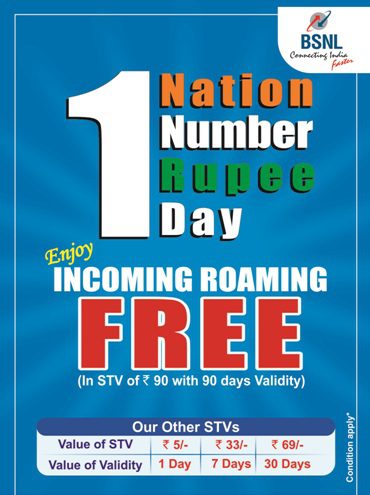 of India, BSNL today launched a new roaming free special voucher of Rs 90, STV-90 with validity of 90 days, making roaming free for just Rs 1 per day. BSNL has given it a special campaign slogan "One Number, One Nation, One Rupee a Day- Roaming free by BSNL'.
The new STV-90 allows the prepaid customer to receive all incoming call free for the period of 90 days while roaming anywhere in the country. The STV-90 is launched specially for youth populations who generally roam in various parts of the country either for studies or due to jobs and maintain two phone numbers because of hefty roaming charges- One phone for home circle while other one of visited circle.
This new STV-90 is bound to help all such roaming customers as they will be able to use their home circle number for receiving unlimited incoming calls while roaming anywhere in India. They can now get rid of maintain two phone numbers
The exclusive screenshot of the new STV-90 is shown below.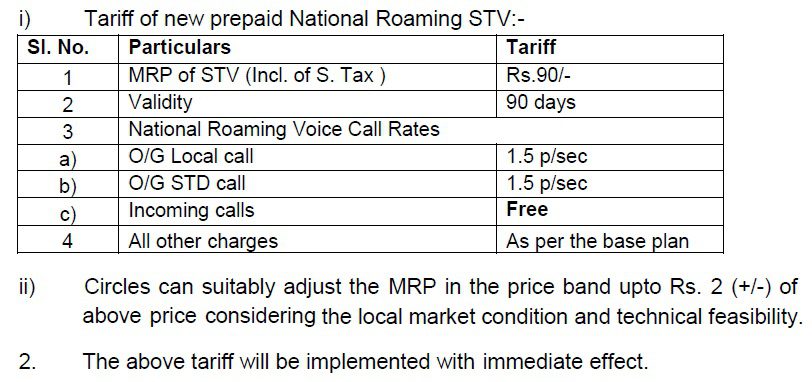 In addition to STV-90, BSNL have three more roaming free STVs i.e. STV-5 with validity of One day, STV-33 with validity of 7 days and STV-69 which comes with 30 days validity. All these STVs allows to make all outgoing local/national calls @ 1.5 p/sec during roaming and in Home circle, customer will be charged at base plan tariff.
Other than BSNL, Uninor has one Special voucher of Rs 43 which allows customers to receive free incoming calls for 60 days during roaming and customer can also make outgoing local calls at Rs 1/min and STD calls at Rs. 1.5/min.
Category: Call Rates
I have always been a fan of writing and love to share information on latest technologies, mobiles, gadgets and social media. Sharing and acquiring knowledge is a boon, do let's share as well as acquire it. I am very much fond of Coffee.