BSNL prepaid mobile customers who are in habit of using call forwarding STVs, would have to buy the STV for three months basis because today BSNL have modified its one of its STV which allow call forwarding facility.
Presently the call forwarding STV is costing Rs 24 for one month but from 27 July, 2015, it will be available for minimum three month basis and will cost Rs 72. The new price may differ plus or minus Rs 2, hence when you contact your retailer or BSNL CSC next time, don't be surprised.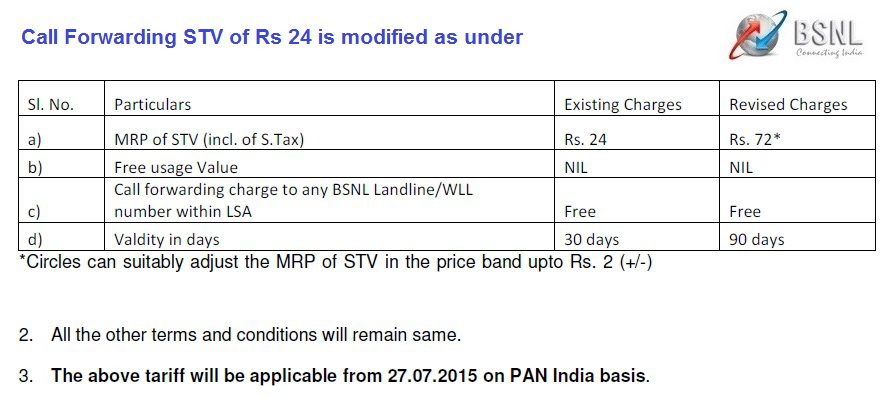 By the way, this call forwarding facility is very useful when you are in meeting and bound to switch off your mobile. Many people prefer to keep their phone on vibration mode or silent mode but in this case you may miss important call so you can forward your call coming on your mobile phone to Landline or another mobile phone where someone may pick up the call on behalf of you and answer properly.
You can opt call forwarding facility in following conditions and may activate Call Forwarding facility either by using the menu function of your cellphone or by using the codes mentioned alongside in below picture.
All calls are to be forwarded
If busy
If no reply
If not reachable/switched off

Category: Call Rates
I have always been a fan of writing and love to share information on latest technologies, mobiles, gadgets and social media. Sharing and acquiring knowledge is a boon, do let's share as well as acquire it. I am very much fond of Coffee.