Bank Account holders of "Pradhan Mantri Jan Dhan Yojana" may get free SIM from any nearest Customer Service Center (CSC) of BSNL or its retailer because the state owned telecom company, BSNL has started offering it as its Social commitment of providing communication facility to every citizen of India.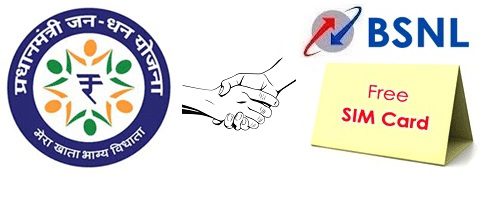 The free SIM offer opens today and will be in force for next 90 days. During this period, Account holder of "Pradhan Mantri Jan Dhan Yojana" may get Free SIM from CSC or any BSNL retailer by completing all formalities of CAF along with copy of Bank passbook.
This may be noted that SIM worth Rs 20 is free only, the activation charges of SIM have to be born by the customer which may be either Rs 36 for "per sec plan" or Rs 37 for "per min plan". Both plan has validity of 180 days and comes with zero talk time. Customer also has choice of choosing other prepaid plans.
For talk time, customer has to choose a variety of recharge coupons of which mostly offers full talk value equal to MRP otherwise normally recharge coupons offers talk value equal to value excluding service tax charges.
The motive behind the free SIM offer is that Account holder of "Pradhan Mantri Jan Dhan Yojana may use the mobile phone to get alters and updated from their bank concerning to their bank account.
Category: Call Rates
I have always been a fan of writing and love to share information on latest technologies, mobiles, gadgets and social media. Sharing and acquiring knowledge is a boon, do let's share as well as acquire it. I am very much fond of Coffee.