Tourist as well as businessman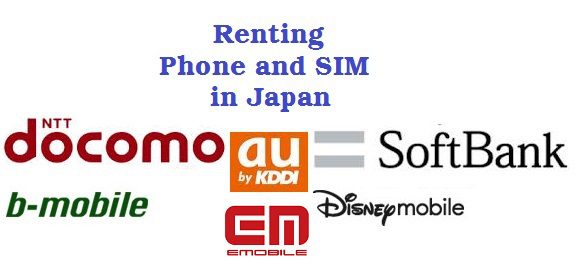 visits Japan but due to different technology used by Japanese telecom carriers, most of the foreigners can't use their own smartphones there.
Getting a regular prepaid mobile connection in Japan is difficult because it need valid ID cards but you can get telecom connectivity in Japan. You may go for renting services for a phone/SIM.
If by chance your latest mobile smartphone works in Japan, it is too costly to use in Japan because of high international roaming tariffs of your own country, it costs almost 8 times costlier as comparative to Japan's local rates so it is better option to use Japan's local telecom services for your communication needs.
Interestingly in Japanese culture, talking over phone is not popular in public places, on trains or even walking down the street.
Data plans are most popular and cheap also. Japanese uses social media/e-mails etc most for communications with their friends/family and even if at all they had to talk, they use free apps like Line or Viber on their smartphones.
There are agencies, who offer renting of phone/ SIM to tourist for their short or long stay in Japan with a facility of delivery at the Airport as soon as you arrive at Japan.
You have options to get the phones on rent or you can also rent SIM alone if you have an unlocked phone supporting mobile network of Japanese mobile operators. You can also get both phone and SIM on rent. All these options of renting have its own advantages/ disadvantages.
Renting both phone and SIM have advantage that you get some freebies in the form of calling minutes with SIM
The charges of renting Phones/SIM are as follows.
Renting iPhone 4 cost you ¥8000 and iPhone 5 cost you ¥10000 for a week.The rent includes free calling worth ¥1000 and unlimited web access. If you make voice calls after freebies offered with phone, the call charges for USA are also lowest, just at the rate of ¥24 per min.
Rent for a SIM is in the range of ¥6700 to ¥12000 for a week, rent depends on type of SIM, SIM for Android phone fetch rent of ¥12000, iPhone 5/5S etc SIM comes with rent of ¥10000 for a week
You have to handle phone carefully otherwise damage charges are very high. Damaging a SIM may cost you ¥3,150, mishandling of handset may cost you as high as ¥42000 for uninsured handset, ¥6300 for damage battery and even if battery charger gets damaged, you have to pay ¥2100 for it.
You can also get dongles on rent, A data card (Dongle) of 7.2 Mbps speed cost you ¥6700 for a week but it also comes with freebies of unlimited data use, you don't need to pay anything for data usage.
Returning of these rented Phone/SIM is easy, at the time of renting, you receive a prepaid return envelope, just place all rental items into the prepaid return envelope, seal it, and then drop it in any mailbox all around Japan as well as in the airport before the security gates. You do not have to directly return the rental items to agencies.
In next post we will take comparative rates of renting from different mobile operators/agencies in Japan.
Category: Call Rates, Data Usage, World Telecom
I have always been a fan of writing and love to share information on latest technologies, mobiles, gadgets and social media. Sharing and acquiring knowledge is a boon, do let's share as well as acquire it. I am very much fond of Coffee.