Targeting majority of smartphone customers who uses at most 1GB data a month, AT&T is launching a new 1GB data plan for $45 under its prepaid GoPhone plans, which also include unlimited talk and texting. This plan will be available from April 25, 2014 at Wal-Mart stores only nationwide.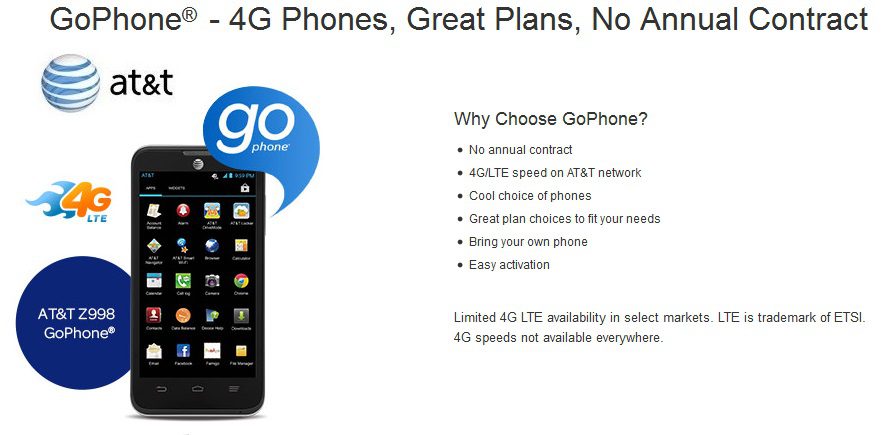 Starting April 25, 2015, AT&T is also enhancing data allowance to its prepaid GoPhone plans. The $60 plan for smartphone will now allow users to use 2.5GB in place of current 2GB and customer could also use their smartphone as Wi-Fi Hotspot. The customers on $40 plan would be able to use 500MB in place of current 200MB.
For basic phone users, the new $45 plan allows them to use unlimited data (first 2GB data at 3G speed after that speed throttle to 128Kbps). Currently this plan costs $50.
If we compare these prepaid plans of AT&T with T-Mobile, Verzon and Sprint, T-Mobile has more attractive prepaid plans starting from $30 that allows user to use unlimited data (5GB at 4G speed) and texting plus 100 min talk while Verizon has prepaid ALLSET Plan of $45 for both smartphone as well as basic phone users which allows them unlimited talk&text plus 500MB data. If Verizon user wants more data, they can buy 500MB for $5 or 1GB for $10.
Sprint's Smartplus prepaid plan $60 offers unlimited talk, text and data (2.5GB at 4G speed) for smartphone users while same plan is being offered at $50 for basic phone users.
AT&T's new $45 plan looks more competitive as compared with Verizon and Sprint but it can't beat T-Mobile's prepaid plans.
Source [AT&T]
Category: World Telecom
I have always been a fan of writing and love to share information on latest technologies, mobiles, gadgets and social media. Sharing and acquiring knowledge is a boon, do let's share as well as acquire it. I am very much fond of Coffee.