After a lucrative offer to upgrade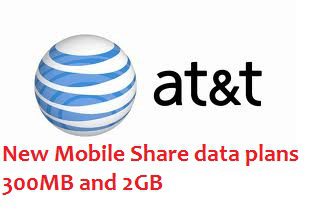 your device by "Next" Program, now the America's most reliable carrier AT&T, which has fastest 4G LTE Network has made an attempt to woo customers who uses low data and announced two low budget and low data plans of 300MB and 2GB. These two "Mobile Share" plan will be available from 26 July and will cost $20 for 300MB and $50 for 2GB.
The details of new Mobile Share data plans are encircled as below.

These mobile share plans are basically to share the mentioned data among smartphone and each smartphone has to bear additional cost for unlimited talk and text.
The additional fee of smartphone starts from $50 with 300MB data hence if two smartphone share 300MB data then total cost would be $50+$50+$20=$120, similarly if two smartphone share 2GB data then total cost would be $45+$45+$50=$135. Here each smartphone can make unlimited talk and text.
If you want to share 2GB data on your tablet in addition to two smartphone then you just have to add $10 more in the cost so total cost would now be $145 only.
If we compare these plans with the T-Mobile's family plans for two lines then it cost $100 only in which 2.5GB data can be shared between two and each smartphone can make unlimited talk and text. Hence still the new plans from AT&T would be $35 costly for 2GB data share plan for two lines.
After this comparison, do you still want to switch over ? make sure coverage of the carrier in your area must be good before opting T-Mobile.
Here is the full press release from AT&T:
AT&T Expands Mobile Share Choices to Make Sharing Data and Unlimited Talk and Text More Affordable Than Ever
Dallas, Texas, July 22, 2013
With the launch of two new Mobile Share plans, AT&T* continues to make it easy and affordable for customers to share data on the nation's fastest and now most reliable 4G LTE network**. Available July 26, new and existing customers will have two new Mobile Share plan options to choose from – 300 MB or 2 GB of data with unlimited talk and text.
The 300 MB plan is only $20 a month, with additional costs per device added. Now, customers with basic and quick-messaging devices can share data and unlimited talk and text for as low as $50 a month and smartphone customers for $70 a month.
The new 2 GB plan provides another choice for customers whose data needs exceed our existing 1 GB plan available today.
AT&T Mobile Share plans make it easy for customers to manage their data, voice minutes, and texting, without needing to keep track of multiple plans. As with existing Mobile Share plans, each plan includes mobile hotspot capability, as well as unlimited domestic calling and text for smartphones and basic or quick messaging phones. The new plans will also be available for business customers.
"Our customers are living mobile lives, and our new Mobile Share plans give them even more options to design a plan that meets their unique needs," said Mark Collins, senior vice president voice and data products, AT&T Mobility. "Now, even more customers are able to enjoy the full benefits of their device, on the nation's fastest and most reliable 4G LTE network, at a great value."
"We've seen an amazing response from customers since we first launched AT&T Mobile Share plans about one year ago, and that's why we're expanding our Mobile Share choices to fit more customers," added Collins. "As of the first quarter of this year, more than 10 million connections have discovered the benefits of sharing data and unlimited talk and text."
Customers have a variety of options to stay informed about their data usage and can check their usage at anytime online through the myAT&T mobile app, by dialing *DATA# from their mobile phone. AT&T also sends courtesy alerts as customers near their data allowance for the month.
Each data plan also includes access to more than 32,000 AT&T Wi-Fi Hot Spots at no additional charge. Wi-Fi usage at public hotspots, home or office does not count toward the monthly wireless data plan usage.
Customers can learn more about the new plans and determine which plan is best for them at www.att.com/mobileshare.
Category: Call Rates, Data Usage
I have always been a fan of writing and love to share information on latest technologies, mobiles, gadgets and social media. Sharing and acquiring knowledge is a boon, do let's share as well as acquire it. I am very much fond of Coffee.