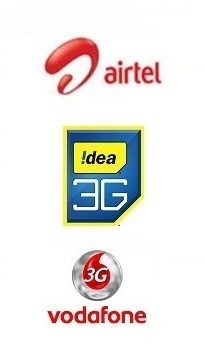 In a bid to improve profitability, Indian private telecom operators are either hiking the tariffs or withdrawing or reducing discounts and freebies from last one year.
Recently Airtel, Idea and Vodafone have rejigging their data plans and made them costly for their customers. Let us see their present data tariffs.
Airtel, the India's largest telecom service provider have hiked the price of its all data packs by Rs 50 hence its 1GB data pack is now costing Rs 295 in place of earlier price of Rs 250. The data pack for 2GB now costs Rs 495 in place of Rs 450 but in some circles it offers 3GB instead of 2GB as a special offer at Rs 495.
The regular data pack of 3GB data pack costs Rs 695 in place of Rs 645. All these data packs have 28 days validity. The additional advantage in these pack is that wherever 4G services are available, customer will get 4G otherwise they will get 3G services.
Vodafone have also revised its data packs and its 1GB data pack now costs Rs 297 in Mumbai and 2GB data pack costs Rs 497, both comes with 28 days validity only.
Idea Cellular is offering 1GB 3G data pack at Rs 295 while 2GB data pack has price tag of Rs 495. Validity of both packs has 28 days.
Amid these costly data packs, if you look other operators, they still offer data pack at even cheaper rates like BSNL has 1.1GB data pack for Rs 198 only, Tata DoCoMo offers 1.5GB 3G data pack at Rs 289 and 2GB 3G data pack for Rs 325 in Maharashtra & Goa circle. These data packs also come with 28 days validity.
You can check that other small private operators are offering more data at lower prices as compared to these giants.
With these tariff hike, how much it impacted on your expenses on mobile usage? Do share in comments.
Category: Data Usage
I have always been a fan of writing and love to share information on latest technologies, mobiles, gadgets and social media. Sharing and acquiring knowledge is a boon, do let's share as well as acquire it. I am very much fond of Coffee.