In an effort to improve the image of BSNL's customer services in its subscribers, BSNL have now integrated all the complaint booking portals and introduced one single portal where customer of any type of service may lodge the complaint.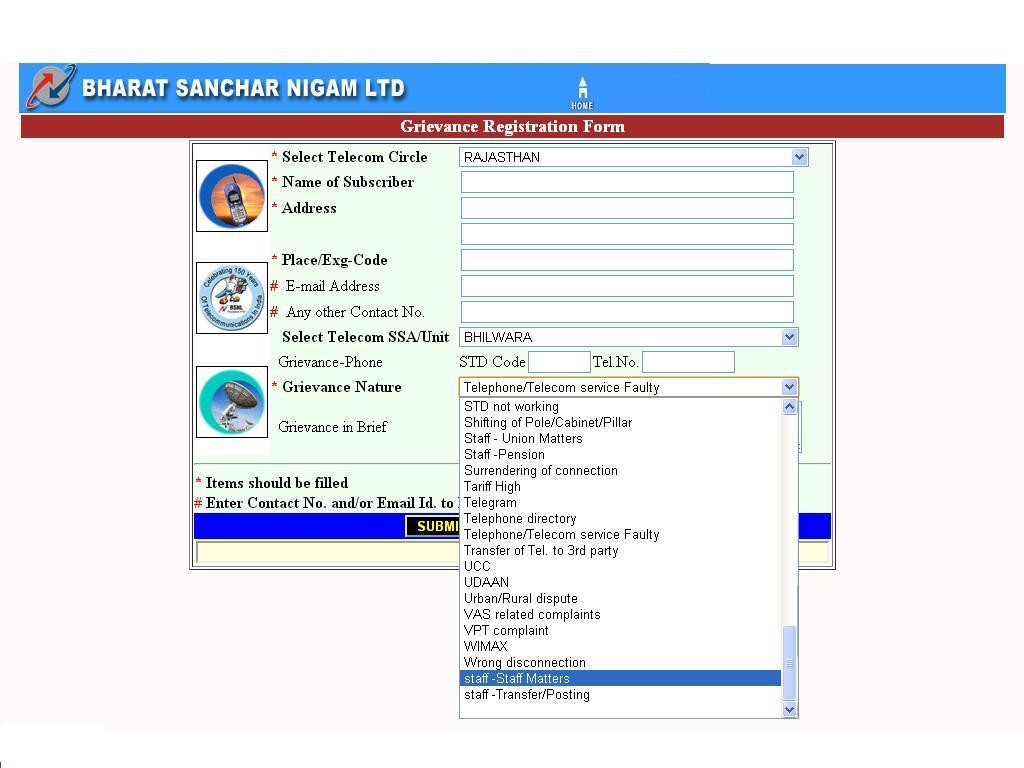 On this new online complaint portal, you may book complaint of any type whether it is related to your landline, mobile, broadband, misbehavior by staff, WiMax etc 
BSNL is claiming that they will monitor each and every complaints booked on this portal and monitoring will be done, from the SSA level to the corporate office of BSNL which is situated at New Delhi, to resolve the complaint within specified time period set by the BSNL/TRAI. Here SSA is the place where you are residing and taken the connection from the BSNL.
But before booking complaint on this portal, first you have to book you complains at BSNL's complaints booking Toll Free Number like 198, 1500, 1501, 1503 etc as per nature of the complaint.
And if your complaint doesn't get attended and your problem is not resolved within a specified time period  then you may lodge the complaint on this new online portal.
Booking of compliant on this portal is simple, you just go the website by clicking here :http://mis.bsnl.co.in/pgs/internet/pgwebregn.asp  and then select Telecom Circle or State, Fill your details along with contact number which is must because BSNL Authority will contact you with this contact number. Mention your complaint/ problem/ Grievance in brief and then submit it. You will get one ID and you must note down it so that you may follow your complaint in future.
Update :In case your grievances are not resolved at BSNL office, you may lodge the complaint at http://pgportal.gov.in/, here you should select Department/Ministry as Department of Telecommunication and fill up other details . You can explain your grievance in 4000 characters, so explain clearly.
You may share your experiences with BSNL here in Comments
Category: How to
I have always been a fan of writing and love to share information on latest technologies, mobiles, gadgets and social media. Sharing and acquiring knowledge is a boon, do let's share as well as acquire it. I am very much fond of Coffee.
Comments (320)
Trackback URL | Comments RSS Feed
Sites That Link to this Post