If you have missed, just to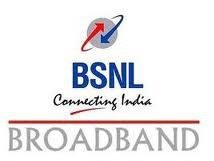 recall that BSNL has launched a new unlimited broadband combo plan with fixed monthly charge (FMC) of Rs 990 with a very special feature of additional storage on messaging service 6GB i.e. BSNL is providing specially 6GB storage in their e-mail associated with every broadband connection however in all other plan, BSNL provides 1GB only.
The plan offers 8GB at download speed up to 2Mbps and after crossing this limit, download speed reduces to 512Kbps for the rest period of month.
BSNL has already started accepting subscription for this broadband plan from 26 November, 2015 in its all telecom circles across the country.
The other feature of this broadband plan is given in below screenshot.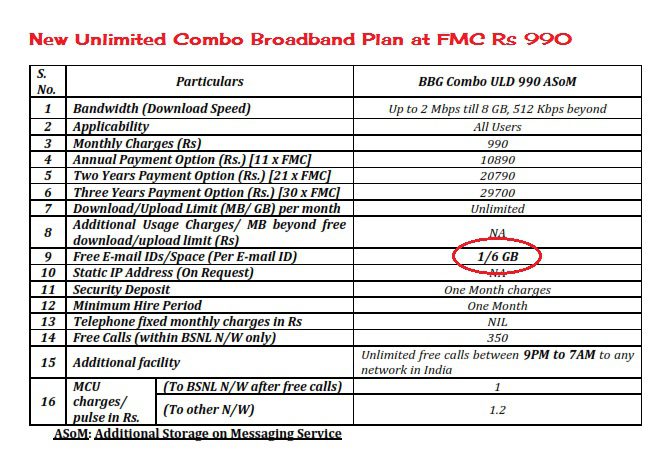 Now the question is what is special in 6GB storage when even every free emailing service offers more than 6GB storage, like Gmail offers 15GB storage, Yahoomail offers whopping 1TB (Terabyte) which is equal to 1024GB. Then what is the special in BSNL's emailing service.
BSNL offers emailing service Powered by XGENPLUS, which has many new and attractive features as listed below
You can send SMS, Instant messages and Fax, even you can schedule the message to be sent at a later stage on desired date and time. This facility can be used for time-specific compliance or for sending Birthday/Anniversary wishes or meeting reminders to yourself or your colleagues.
While sending the email, you can define the rights whether, recipient can Delete/Forward/Reply or print this email or not. You may reset those rights at later stage too.
It provides search facility even for Attachments in emails
It has in-built Media Player that means , if you are receiving videos in your email, you can play it directly within your browser without download them.
From one email account, you can send Email from different Sender IDs, i.e. you just need to add another verified sender ID and signature and then can send email using these verified sender Ids.
Email is secured by powerful virus protection even you can check, from which IP, date and time, last login was. You can block SPAM and other emails from undesired Domains along with rules.
You can secure your emails by encrypting them before sending even encrypted emails received in your email account cannot be read by others even after logging into your account. Digitally sign all emails and ensure that emails are not modified/altered on the way after sending it up to the destination and verifiable by the recipient.
You can get guaranteed delivery report by click on 'Delivery Report' while composing email. You will receive delivery report email as soon as your email has been delivered in recipient's mailbox.
If you need more control on your email, BSNL's email facility is the best one. you can check other features of XGENPlus email by click here
Category: Broadband
I have always been a fan of writing and love to share information on latest technologies, mobiles, gadgets and social media. Sharing and acquiring knowledge is a boon, do let's share as well as acquire it. I am very much fond of Coffee.