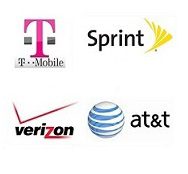 Holiday season is on full swing and all are enjoying with their friends and family. The new year eve is just two days ahead and you will need to wish your all dear ones on phones either by calling them or by sending online greetings. You need to surf a lot on new year eve to know about what others are doing around you.
All four major carriers in USA have already came out with most competitive plans here are their best service plan which may be very much useful to keep your expenditure in limit.
Considering the need of at least 2GB data, let us see the plans.
Verizon
Verizon, the largest carrier of USA, has a single line plan at $75 which offers 2 GB of data plus unlimited talk and texting. If customer opt for EDGE program, the cost on the same plan come down  to $60.
AT&T
AT&T , the second-largest mobile network in the USA, also has 3GB Mobile Share data plan costing $65. As comparing to Verizon, it is cheaper and also giving 1GB extra data.
Sprint
Sprint is offering single line unlimited talk, text and data at $50 for iPhone 6 users and at $60 for other phone users. The plan is offering unlimited data but after 5GB data, speed throttles. Comparing to two big brothers, this plan is cheaper and user can use Internet without worrying for data usage or without fear of data overage.
T-Mobile
T-Mobile is the most active carrier in USA and shakes wireless market tirelessly. Its  Simple Starter Plan for $45 gives 2 GB of data plus unlimited talk and text. However its unlimited plans are also more attractive. Recently it has also announced plan of roll over of unused data.
Conclusions
Looking above it seems that T-Mobile has  the cheapest plan but before opting it check coverage in your area. T-Mobile's roll over unused data plan also make it more attractive. Only T-Mobile and Sprint has unlimited data plan while two majors Verizon and AT&T don't have so for high data users, they can  choose Sprint or T-Mobile as per coverage in their area.
Category: Uncategorized
I have always been a fan of writing and love to share information on latest technologies, mobiles, gadgets and social media. Sharing and acquiring knowledge is a boon, do let's share as well as acquire it. I am very much fond of Coffee.