Have you watched the Aircel's new brand campaign on TV ?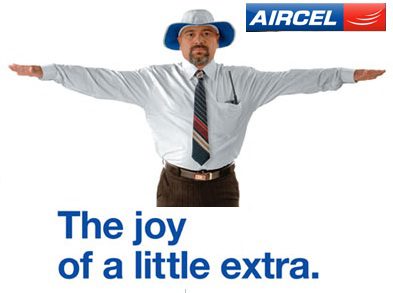 The ad campaign is aim to encase the hidden joy of getting little extra unexpectedly. When the other mobile operators are busy in increasing tariffs of voice calls, data usage and SMS, the Aircel is offering "little extra"  on their products. The ad campaign is to promote the Aircel's product on which the customer gets extra on the above of MRP of the product whether it may be Extra SMS', Extra Talk time or Extra Data.
Under this campaign Aircel is also planning to launch new plans but at present followings are being offered.
Extra Talk time: The user who purchase a recharge of Rs 135 (MRP), the user gets talktime of worth Rs 150 in addition to freebies of 2MB data of 2G with a validity of 25 days.
Surf to talk free: The buddies who are addicted of Internet, if they use 1MB or more data per day, they will be eligible for free 10 local minutes and this 10 minuted may be used on any network till midnight of next days.
Bees ka Dum: with the recharge of Rs 20, the user get 38 local/national min free with a validity of 3 days.
So enjoy these offers and wait for such type of many more exciting offers from Aircel .
Category: Call Rates
I have always been a fan of writing and love to share information on latest technologies, mobiles, gadgets and social media. Sharing and acquiring knowledge is a boon, do let's share as well as acquire it. I am very much fond of Coffee.