Till now EE is enjoying the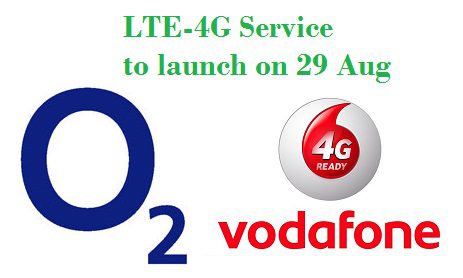 status of "Only 4G Operator" of UK but now days are over when Vodafone and O2 both are launching 4G services in UK starting from London.
EE launched 4G services just one year ago on October 30, 2012, EE have more 4G coverage in 95 cities which covers more than 60% of the population of UK, EE also planning to cover 98% of population of UK by the end of 2014.
Vodafone and O2 are launching LTE 4G services on 29 Aug-2013 with a grand function starting from London and Vodafone will further provide 4G services in 13 cities by the end of 2013 and also planned to cover 98% population by the end of 2015. O2 has aim to launch 4G services in 13 cities by the end of this year.
These 13 cities of UK, which are common to EE and Vodafone coverage are Birmingham, Bradford, Coventry, Edinburgh, Glasgow, Leeds, Leicester, Liverpool, London, Manchester, Newcastle, Nottingham and Sheffield and 13 cities common to EE and O2 are Birmingham, Newcastle, Glasgow, Liverpool, Nottingham, Leicester, Coventry, Sheffield, Manchester, Edinburgh, London, Leeds and Bradford so by the end of 2013, the users of these cities will get 4G tariffs at most competitive prices as today they are getting 3G tariffs.
From 29 Aug onwards, users of London will have alternative option to choose the 4G operator so let us see what these new entrants are going to offer in comparison to existing 4G operator EE.
EE has phone plans starting from £19 which offers free unlimited talks and texts, and 500MB data with on a one year contract plan under the SIM-Only plan. Unlimited talk, text and 1GB data is being offered for £26. For more 4G plans, please click here.
Vodafone is launching 4G services with very competitive tariffs. It is going to offer 2GB of data including unlimited talk and text at just £26 on a one year contract plan under the SIM-only plan. for more details on 4G-Red tariffs, please click here.
O2 is all set to launch 4G services with competitive tariffs starting from £26 but what will you get,is yet to be revealed by O2.
Update: O2 is launching 4G services at three places London, Leeds and Bradford and have also announced 4G tariffs with impressive freebies, O2 will offer 1GB of 4G data for£26 for the customers who want SIM-Only plan. It is offering 5GB of data for £31 as a special offer till October and after that, you will get only 3GB of data,  a special snapshot is shown below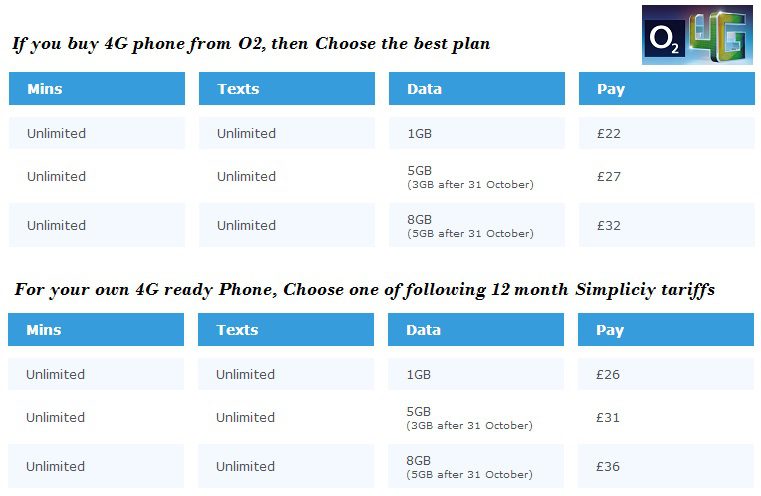 For more details on 4G tariff of O2,  please click here
The most important part of your new contract will be your new smartphone and you must have be more cautious in choosing the smartphone. You must be aware that the most popular Apple's iPhone5 is not supported in either Vodafone or O2's 4G network so you can't use iPhone5.
If you choose any of HTC One, Samsung Galaxy S4, Galaxy S4 Mini, and Sony Xperia Z, you can use these smartphone on all three 4G network of EE, Vodafone and O2.
EE currently has 15 different 4G supported devices, including the network-exclusive Huawei Ascend P1 LTE. The O2 will be offering 20 different devices, whereas Vodafone has a total of 13 different handsets.
We hope that all these three operator now starts offering more competitive tariffs to lure more customers on their 4G networks.
Category: Data Usage, World Telecom
I have always been a fan of writing and love to share information on latest technologies, mobiles, gadgets and social media. Sharing and acquiring knowledge is a boon, do let's share as well as acquire it. I am very much fond of Coffee.