Virgin Mobile rides on Sprint network for offering 4G services in USA. Although Sprint offers 20GB family share data plan for $100 only and the data may be shared among up to 10 lines, all 10 lines need to sign contract with Sprint but today Virgin Mobile has launched three new contract-free 4G data share plans at $65 for two people to share 4GB data,  at $90 for three people to share 8GB data and for $115, four people can share 12GB data.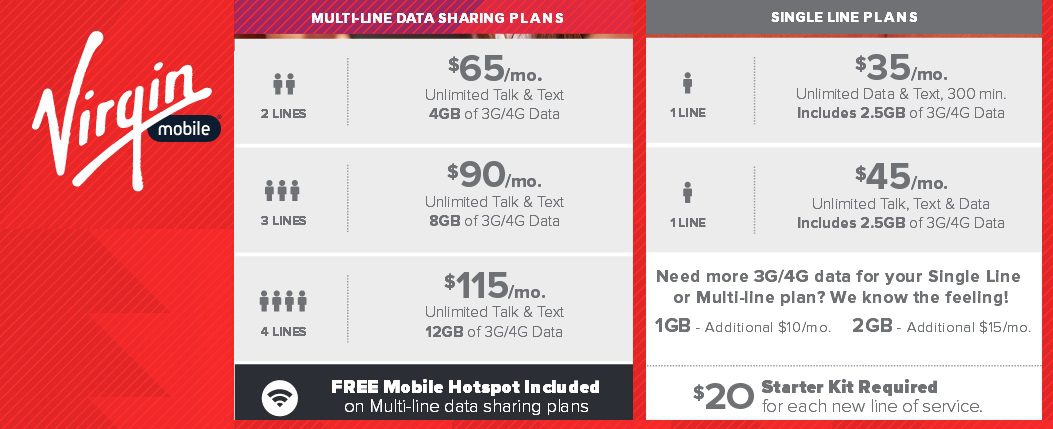 The highest plan $115 just work out less than $30 for 3GB data for an individual if all four of them share equally. All people who share data plan will also get unlimited voice and texting.
Data hungry customers can add more 4G data by paying $10 for 1GB data or they can buy 2GB for $15
Virgin's all new no-contract shared data plans will be available starting tomorrow i.e. January 17, 2015 at Walmart stores. All lines will need a starter kit costing $20 for each line.
These contract free plans from Virgin Mobile will compete with T-Mobile's Simple choice plans which offers 10GB for $100 for four lines, sharing fixed 2.5GB each equally among them.
Virgin Mobile has also announced two revised single-line plans at $35 and $40. Single line $35 plan offers  300 voice minutes, unlimited messaging, and up to 2.5GB of high-speed of data while $40 plan offers unlimited voice and messaging, and up to 2.5GB of high-speed data.
Category: World Telecom
I have always been a fan of writing and love to share information on latest technologies, mobiles, gadgets and social media. Sharing and acquiring knowledge is a boon, do let's share as well as acquire it. I am very much fond of Coffee.