Once again, in the cutthroat competition among US carriers, new attack is from Verizon who has launched today a new plan "More Everything" which allow all new and existing customer to use double data on three mid-range and most popular selected plans priced $40, $50 and $60 and also reduces monthly service prices for subscribers using Verizon's Edge handset upgrade program.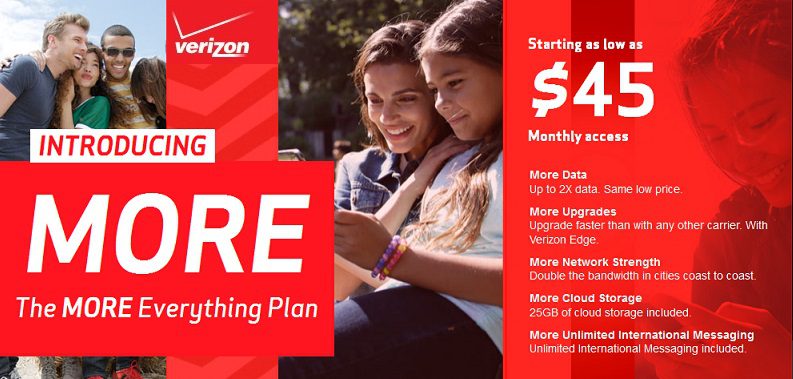 That means those all customers who are currently subscribed to $40 plan will now enjoy 1GB of data in place of current limit of 500MB, a customer on plan $50 will now able to use 2GB data in place of 1GB and customers on $60 plan are eligible to use 3GB data.
Customer on Edge plan will receive $10 more discount for data plan up to 8GB i.e. they have to pay just $30 in place of $40 for their line access fees, while Edge customers on 10GB or higher plans will receive a $20 line discount.
Verizon also introduced two new low data usage plan of 250MB for $15 and 500MB data plan for $30 with line access charges $40 for smartphones and $30 for basic phones hence Verizon claims that customers can have now monthly bill as low as $45 for basic phones which allows you unlimited talk & text plus 250MB data usage. In spite of these new plan, unlimited plans from country's largest carrier are missing while Sprint and T-Mobile offers unlimited data plans.

Have a quick look on new "More Everything" plans as compared to AT&T
If we compare this "More everything" plan with Sprint's "Framily plan", it offers $15 cheaper for 1GB data plan, Under Framily plan, 1GB data costs $55 for a single family member and it gets cheaper as family member increases. Four members on a Framily plan gets 1GB of data for $40/mo each. The main attraction of the Framily plan is that every member gets separate bill for their usage.
Let us analyze which carrier offer the best deal for a family member of four members and each member needs at least 2GB data usage per month.
As we have seen above Verizon's new "More everything" plan offers 2GB of data for every members at $90/mo and if all members have joined Edge plan then their monthly bill could be $80/mo.
Sprint's Framily plan starts from 1GB but it offers additional 3GB for extra payment of $10 only so every member can use data freely. Under Sprint's Framily plan for a family of four members, the monthly bill would be $50 per member for 4GB data.
AT&T's new Mobile Shave Value Plan (MSVP) offers 10GB of sharable data among family members so for a family of four members, it costs $160, each member's share is almost $40 for 2.5GB of data.
T-Mobile's Simple choice plan starts for 500MB but its 2.5GB data plan costs $60 for one customers but for a family of four members it costs total $140, so every family member enjoys 2.5GB data for monthly bill of $35 for each member
Comparison table for a 4 members family
It is evident from above analysis, Sprint's Framily plan goes cheaper for a family of four but for budget conscious customers,  T-Mobile is the best deal which offers bill of $35/mo per member.
Category: World Telecom
I have always been a fan of writing and love to share information on latest technologies, mobiles, gadgets and social media. Sharing and acquiring knowledge is a boon, do let's share as well as acquire it. I am very much fond of Coffee.