USA: Excited with awesome response of its newly flavored and branded data plans which were announced just one month ago, Nation's major carrier Verizon Wireless today announced fifth data plan for just $100 which offers whopping data 18GB for heavy data savvy users or small business for a limited time.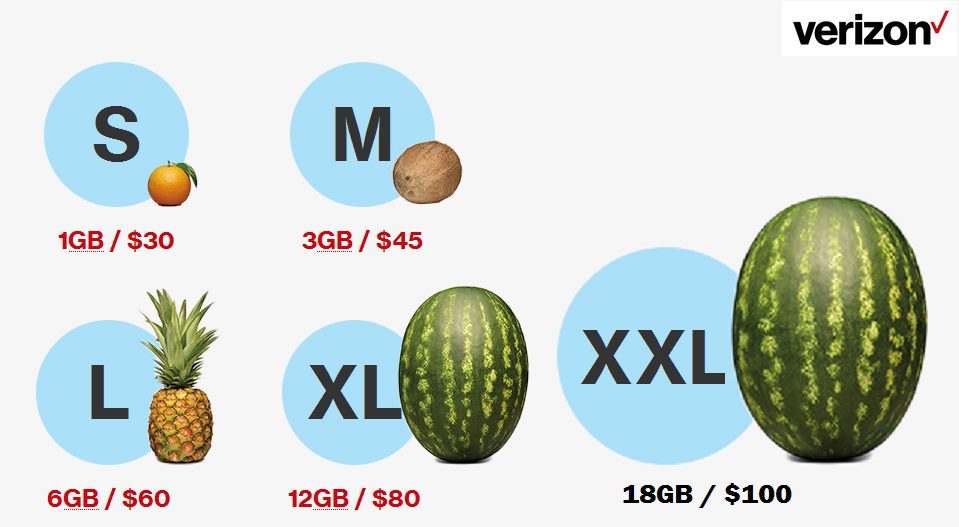 Earlier to this, Verizon users had only option of selecting (S)1GB for $30, (M) 3GB for $45, (L) 6GB for $60 and (XL) 12GB for $80 but now they have one more option of (XXL) 18GB for $100. Mind it, access fee $20 per smartphone is extra for each line plus taxes, tablet can be added for just $10 fee.
Verizon's today heavy data plan came in the response of its rivals who are offering similar type of data offering in high data plans likewise, AT&T has started offering 15GB for $100 and 200GB for $140 from last month.
T-Mobile is already offering $100 plan for a two-person family and each one are getting 10GB of LTE data allocated to each person. T-Mobile also allow to add more members for just $20 and they will also get same 10GB of data each.
Just for comparison, for $100 per month, Sprint is offering shareable data plan of 10GB for four lines and for $120 per month, you gets whopping 40GB shareable data. Further adding line costs $15 per line.
Looking at the above, it is clear, high data users or big families can now have data plan of major carriers at cheaper rates.
Category: World Telecom
I have always been a fan of writing and love to share information on latest technologies, mobiles, gadgets and social media. Sharing and acquiring knowledge is a boon, do let's share as well as acquire it. I am very much fond of Coffee.