Verizon Wireless has added one more option of 250MB for $20/mo in its Share Everything Plan for smartphone and basic phone customers. With addition of this option, now shared data plan starts from 250MB which may be sufficient for lightest data user but for a smartphone user, this much data will be consumed within a week time or less.
The customers opting this plan will get monthly bill $60 for smartphone customers and $50 for basic phone users.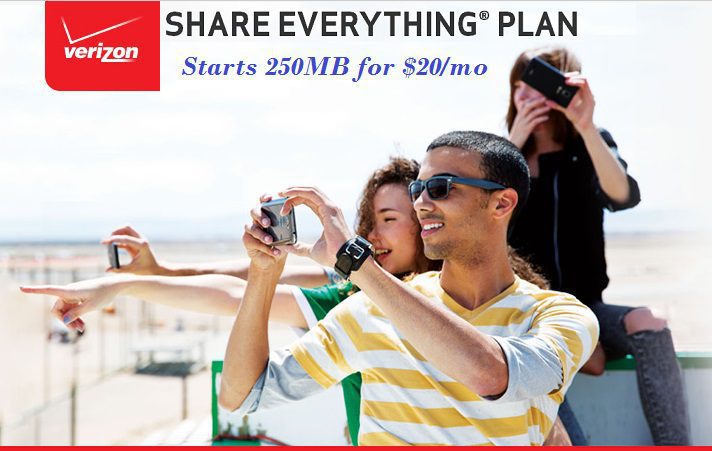 As compared to other carriers, where AT&T offers lowest data option of 300MB for $20 and get the monthly bill of $60 but still get 50MB more data. If customer brings their own smartphone, their monthly bill could be merely $45 only ($20 for 300MB data + $25 for device).
The T-Mobile customers, for a monthly bill of $50 gets 500MB of data and if two family opt 500MB data options then their total bill would be $80 only and both will get unlimited talk, text and 500MB data each.
Recently Sprint introduced "Framily" plan under which monthly bill could be as low as $25 if at least 7 members join same account. Each member will gets unlimited talk, text and 1GB data usage.
Looking at data plans of other carriers, many may not be takers of this option of Verizon because after consuming bundled free data usage of 250MB, every additional data usage will be charged at the overage fee of $15 for each 200MB.
Interestingly the overage fee charged by Verizon is same $15 for each 500MB usage for 500MB data plan users, $15 for each 1GB for 1GB data plan users.
For a smartphone user, at least 1GB data plan is required to use their smartphone comfortably.
Category: Data Usage, World Telecom
I have always been a fan of writing and love to share information on latest technologies, mobiles, gadgets and social media. Sharing and acquiring knowledge is a boon, do let's share as well as acquire it. I am very much fond of Coffee.