USA: Chicago based, nation's fifth largest carrier, US Cellular has made their data plan cheaper, affordable by lowering prices. The carrier has taken this step to attract more customers.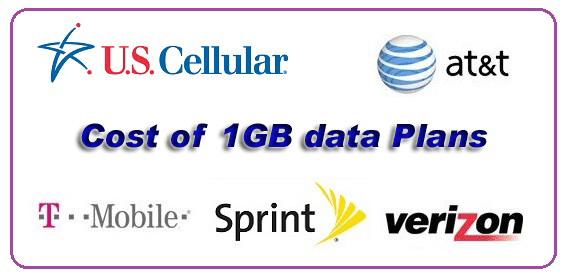 So after this rejigging, the 1GB data plan which were costing $30, has been priced at $25, a cut of $5. Similarly 3GB data plan is costing now $40 and 6GB data plan costing $55. Apart from these monthly rates, customer have to pay smartphone access fee $20 extra hence a total monthly expenses on 1GB, 3GB and 6GB data plan would be $45, $60 and $75.
Higher data plan pricing also revised and now the 10GB data plan costs $70 and 12GB data plan costs $80. The device access fee would be $15 extra.
US Cellular claimed that these plans are cheaper than Verizon and AT&T so to compare these US Cellular plan, if we look at Verizon data plans, Verizon offers 1GB at $30, 3GB at $45, 6GB at $60, 12GB at $80 and 18GB at $100 plus the smartphone access fee $20 flat for all plans.
AT&T has 2GB data plan for $30 and 5GB data plan for $50  and customer have also to bear $25 extra for smartphone access fee so making these plan $55 and $75 respectively. It is clear that US Cellular plans are cheaper than Verizon and AT&T. Hence claim of US Cellular is right.
But if we compare US Cellular plans with  Sprint and T-Mobile, it is not cheaper. Sprint offers 1GB data plan at $20 but it also charges activation fee of $36 plus device access fee $25 or $40 depending on the scheme.
T-Mobile offers 1GB data plan for $50 and 3GB data plan for $60 and these prices are inclusive of all i.e. customers need not to pay extra as device access fee etc. T-Mobile currently offering 2 line data plan for $100 in which each line gets 10GB data.
US Cellular beat the data plan of Verizon and AT&T but not T-Mobile.
Category: World Telecom
I have always been a fan of writing and love to share information on latest technologies, mobiles, gadgets and social media. Sharing and acquiring knowledge is a boon, do let's share as well as acquire it. I am very much fond of Coffee.