There may be a battle among major carriers of US for attracting more customers by offering different attractive offers but still they charge $50 or more for talk, text and data plans.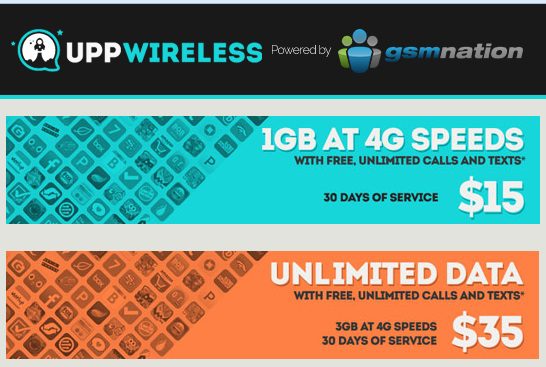 But if you have your own unlocked phone, you can get service plans at as low as $15 that too with offer of unlimited talk, text and 1GB data at 4G speed. This made reality by a company, UppWireless which basically uses services of a MVNO, Red Pocket Mobile. Red Pocket Mobile is MVNO and uses network of AT&T and T-Mobile.
Customers have to pay $10 for SIM starter kit extra at the time of taking connection..
If you purchase device from the company, it offers Samsung Galaxy S4 mini for just $349 with free SIM plus unlimited talk and text included in the price of handset.
The UppWirelss offers everything unlimited i.e. talk, text plus data, for just $35/mo. You can use the internet at 4G speed until 3GB data usage after which speed throttled but still you get 3G speed for rest period of the month.
Actually UppWireless uses VoIP technology, UppTalk app and Wi-Fi coverages for routing of phone calls and text messages. The awesome UppTalk app is uniquely developed by the company it makes possible to let the user make VoIP calls (including landlines) and texts to any cell phone in the world, even if the person doesn't have the app.
Presently UppTalk app works on Android and apple phones only, on Android the app hijack the dialer and texting apps and all the phone calls and texts go through UppTalk app seamlessly. But on apple phones, you have to dial through a separate UppTalk icon. The company don't have Windows Phone version of the app yet, but there's one coming soon.
The UppWireless has decent coverage in all major populated areas but far flung area may have some problem so before you make up mind to go for it, please ensure coverage in your locale.
Category: World Telecom
I have always been a fan of writing and love to share information on latest technologies, mobiles, gadgets and social media. Sharing and acquiring knowledge is a boon, do let's share as well as acquire it. I am very much fond of Coffee.