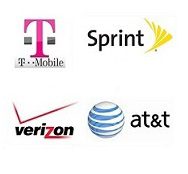 Customers of AT&T and Verizon in USA may have jealousy with customers on unlimited plan of T-Mobile and Sprint because their carrier don't offer unlimited data plans and have stopped offering unlimited data plans to new customers way back in 2010 and 2012 respectively.
Existing grandfathered customers of AT&T and Verizon are still enjoying their unlimited data plans but both carriers tethers download speed for heavy users.
To quench new customers, let us see how limited are unlimited plan of T-Mobile and Sprint ?
T-Mobile
On the theme of Un-carrier, T-Mobile is very famous for its unlimited data plans but actually they are not unlimited. Once you hit a certain threshold on its faster, 4G LTE network, T-Mobile slow down the download  speed to 128 Kbps till remaining period of your billing cycle. Customers get back 4G speed when the next billing cycle starts.
T-Mobile also publicize its truly unlimited data plans at $80 but that too has catch, T-Mobile offers unlimited data at 4G speed on its own LTE network only. When T-Mobile customers enters in roaming area, T-Mobile limit the usage at 50MB after which they don't get data service until they come back again on T-Mobile's network.
Even in International roaming data plan, T-Mobile slow down the speed at about 128Kbps if their customers spend more than eligible period out of country.
Sprint
Sprint offers only one unlimited data plan for $60 a month but for heavy data users, those who uses more than 5GB a month, Sprint slow down download speed for them. Similar to T-Mobile, Sprint customers also face capping at 100MB when they enters in roaming area of other domestic carriers.
AT&T and Verizon
Both AT&T and Verizon have stopped offering unlimited data plans to new customers long ago but existing customers are enjoying unlimited data plan but that too with some policy guidelines.
AT&T have fixed threshold 5GB for 4G LTE phone users and 3GB for for 3G and non-LTE phone users. After this threshold, the speed reduces. Verizon says that it slow down speed of its top 5% heaviest users in congested area only.
Above restrictions are on cellular data but non of them put any restrictions on Wi-Fi data.
Category: Data Usage, World Telecom
I have always been a fan of writing and love to share information on latest technologies, mobiles, gadgets and social media. Sharing and acquiring knowledge is a boon, do let's share as well as acquire it. I am very much fond of Coffee.