Most of the Indian mobile customers keeps Smartphone to use Whatsapp and Facebook on the go. Among dozons of free apps for free messaging and voice call, Whatsapp is the most popular app used in India but to use it on Smartphone, user needs a data pack.
Uninor, an Indian mobile service provider, popularly known for its "Sabse Sasta" packs has again brought two new innovative flagship products – Sabse Sasta Facebook and Sabse Sasta Whatsapp.
Both products will allow Uninor subscribers unlimited access to Facebook and Whatsapp at one fixed charge for a period ranging from 1 hour to 1 month.
You can now access Facebook for an hour for just 50p. If you want to use Facebook for a whole day, it will cost just Rs 1 only. Unlimited use of Whatsapp for one whole day will also cost you just Rs 1. Unlimited access to Facebook for a week costs Rs 5 and for a month costs Rs 15 only. Whatsapp fans can use Whatsapp for a week by paying Rs 5 and for a month by paying Rs 15 only.
The details of Sabse Sasta Facebook and Sabse Sasta Whatsapp are shown in following picture.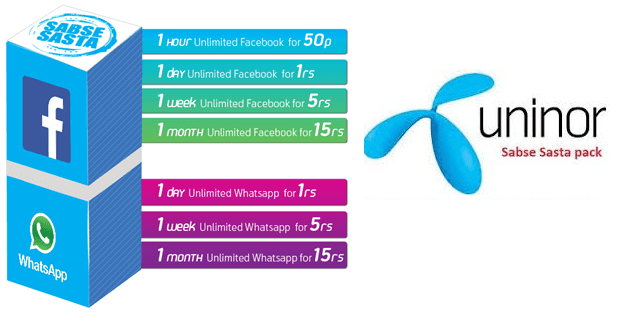 These two flagship products launched in Gujarat and then company will launch in Maharastra and Goa. Over the next few months, these new offerings will be made available across each of Uninor's operational circles, Uninor operates in six telecom circles namely Andra Pradesh, Gujarat, Maharastra and Goa, Bihar, UP East and UP west.
I don't think any Indian mobile service operator offers such a low cost pack for Facebook or Whatsapp. Do you know !!, share it in comments column please.
Category: Data Usage
I have always been a fan of writing and love to share information on latest technologies, mobiles, gadgets and social media. Sharing and acquiring knowledge is a boon, do let's share as well as acquire it. I am very much fond of Coffee.