Uninor, the mobile telecom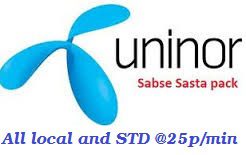 service provider in five states, has launched "Sabse Sasta" special packs of Rs 22 and Rs 31 for customers of its one telecom circle, Maharastra and Goa only.
The special pack of Rs 22 will allow the users to make all local calls on any network @25p per min while pack of Rs 31 will allow users to make all local and STD calls on any network at flat rate of 25p per min. Both special packs of Rs 22 and Rs 31 has validity of 28 days.
Uninor is already having special pack of Rs 54, which allows you to make local, and STD calls @30p/min and has vailidy of 90 days but still Uninor claims that by using STV22 or STV31, the customer of Maharastra and Goa can save up to 70% on their mobile bills if customer makes up to 100 min STD calls.
If we look on other mobile operators, BSNL have STV of Rs 28 which allows user to make all local and STD on-net calls @Rs1 per 3 min and all Off-net local and STD calls @Rs1.2 per 3 min.
Airtel also have STV of Rs 41 which allows user to make all STD calls @35p/min for 30 days.
If any one have info on other Sabse Sasta call rate packs of any mobile operator, please share info in comments.
Category: Call Rates
I have always been a fan of writing and love to share information on latest technologies, mobiles, gadgets and social media. Sharing and acquiring knowledge is a boon, do let's share as well as acquire it. I am very much fond of Coffee.