Most of us are suffering from forced activation of unwanted VAS on our mobile phones that causes irritation as well as eat our talk value from our mobile phone.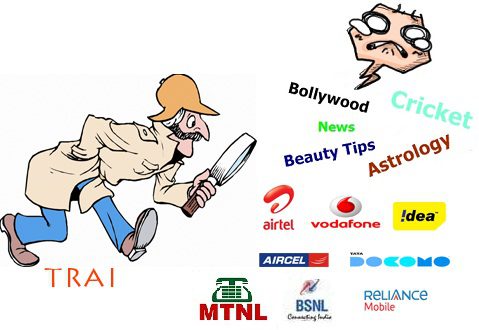 Earlier I shared with you how to get rid of unwanted VAS. Now you may again cheer up because mobile operators are also felt the agony of their mobile subscribers and now they are planning to make their subscribers happy by providing best services in case any VAS vendor activate forcefully unwanted VAS on your mobile phones.
As per the reports, TRAI is in process to offer following two ways of de-activation of VAS  from 1-2-2013.
Deactivation by sending free SMS
As soon as it is noticed that some unwanted VAS has been activated on your mobile phone, just type in your message box STOP and send it to toll free short code 155223 for deactivation. If by chance you send a blank SMS, it will also be considered your request for de-activation of VAS. It may be possible that you are having more than one VAS on your mobile phone and some of them you also want to keep on your mobile phone so you will get confirmation SMS from the mobile operator which will ask you "which VAS do you want to be de-subscribed". Select the code as per your wish and send back. So this is the easiest way to get rid off from your unwanted VAS.
As an illustration, suppose you have VAS as  Astrology, Jokes, and TV  and you want that VAS TV must be de-subscribed then company may ask you like "Please type 1 for Astrology, type 2 for jokes, type 3 for TV or type  0 for all & send SMS to 155223 for de-activation"
On sending the option SMS, the Mobile operator will send back you confirmation SMS like "Dear Customer, your VAS will be de-activated within 4 hours. Thank you for choosing xxxx". Here "xxxx" represent the mobile operator name.
Deactivation by calling Call Centre
You will also have option to get un-subscribed your unwanted VAS by dialing a toll free number 155223 which is basically a IVRS based call centre number. You will listen pre-recorded options and you have to give your choice. The IVRS may have following sequence of announcement/options;
Welcome to xxxx. Please Press 1 for English, HINDI KE LIYE DO DABAYE….
Press 1 for Astrology, press 2 for Jokes, press 3 for TV, press 0 all or press 9 for speaking to the Call Center Associate.
So now we can hope we can get rid truly from unwanted VAS.
Category: Telecom Gyaan
I have always been a fan of writing and love to share information on latest technologies, mobiles, gadgets and social media. Sharing and acquiring knowledge is a boon, do let's share as well as acquire it. I am very much fond of Coffee.