UK's all major mobile operators in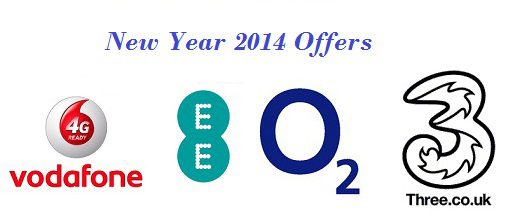 the UK have launched promotional offers for the month of January'2014 to lure their customers in the new year. All majors have either discounted their service plans or reduced the upfront cost of handsets.
Vodafone, UK is offering up to 25 percent discounts on handsets, SIM only plans and Tablets and this promotional offer will be valid until 4 February. Handset like HTC One is now offered at £33 from its earlier price of £37, and the Sony Xperia SP is also offered for £17 a reduced price of £25. There are many more popular handsets of this offering. The operator offers free delivery of theses handsets.

Vodafone, UK has dropped the price handsents as well as plan prices are also discounted like the price of Nokia Lumia 520 on PAYG has been dropped from £85 to £75 and plan charges of Red L SIM only plan, which offer unlimited talk and texts plus 2GB has been discounted at £20.80 from earlier charge of £26.
Vodafone has also discounted 4G-ready tablets plans such as the Sony Xperia Tablet Z offering with 4G data plan of £37 per month has now been dropped to £31 per month. The plan offers 4GB data usage free. The plan price of £42 has also been discounted to £36 which offers 10GB of 4G data.
O2, UK claims that if a customer buy smartphone Samsung Galaxy S4, LG G2 or HTC One for an upfront cost of £49.99 with monthly plan of £27 then customer can save up to £170.

The bundled plan of £27 offers 600 minutes, unlimited texts and 750MB of data usage. For this offer the upfront cost of the handset costs has been reduced from £199.99 to merely £49.99.
Customers interested in 4G plans, have to pay just £5 more per month for unlimited minutes and texts plus 1GB of data usage at 4G speed. They also can save up to £170 even with 4G plans. This offer is up to January 8, 2014.
O2 UK is also offering savings of £ 5 per month on smartphone and tablet bundles, including all the popular gadgets like Samsung Galaxy Tab 3 Wi-Fi version, Galaxy S4 Mini, Sony Xperia Tablet Z Wi-Fi and Sony Xperia SP. The offer is for £37 per month with a £39.99 upfront cost, giving unlimited minutes and texts and 1GB. This offer is valid up to January 16, 2014.
EE, UK has also offered Nokia Lumia 625 free if one subscribe to 4G plan of £18.99 per month. The plan offers 1000 minutes, unlimited texts and 500MB of data usage free. The Sony Xperia SP is free with the 4G plan of £23.99 per month, the 4G plan allows customers unlimited talk and texts plus 2GB of data.
"Three", UK has also reduced a number of its Pay as You Go handsets, including the Nokia Lumia 520 which was earlier priced at £99.99, is now offered at £79.99 only, a saving of £20. "Three" has the cheapest tariffs for PAYG.
All these are decent new year gifts from mobile operators. Dash for a better deal and celebrate new year. Enjoy !
Category: World Telecom
I have always been a fan of writing and love to share information on latest technologies, mobiles, gadgets and social media. Sharing and acquiring knowledge is a boon, do let's share as well as acquire it. I am very much fond of Coffee.