"In every dual-core phone, there's a PC trying to get out", this quote has now become a reality. The Canonical Ltd in association with Linux Distribution has finally unveiled a Linux-based OS for touchscreen smartphones, Ubuntu.  As Linux is world's favorite  free Desktop OS, similarly the Ubuntu is also free OS for Desktop and this mobile version of Ubuntu is also free. The new mobile version of Ubuntu is made specifically for both high end and budget smartphones. Currently Ubuntu OS is being used by more than 20 million users on their PCs/Laptops as Desktop operating system.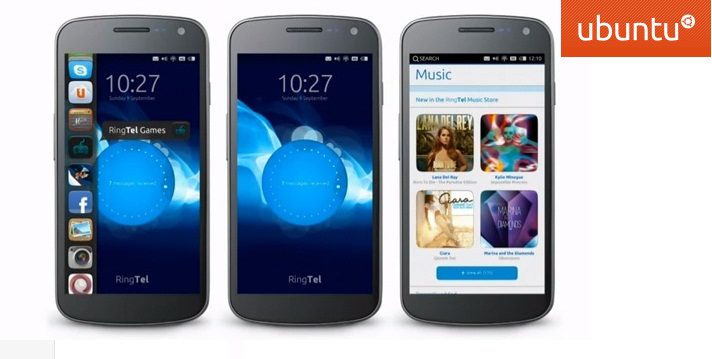 Ubuntu will fill up the gap between the computer and smartphone and will convert your Smartphone in to a PC. The mobile version of Ubuntu can be used on your Android Smartphone  along with existing Android. When you are on move, you get Android but when you will connect your Smartphone to a monitor, mouse and keyboard, it will become a PC.
Ubuntu, being a Desktop OS, offers thousands of free applications, which are originally designed for the desktop, for its mobile version OS for smartphones,.
Ubuntu OS, for Android enabled Smartphones, provides a full desktop experience, including office software, web browsing, email and media applications and most importantly the transition between Android and Ubuntu environments is seamless.

Now the first question comes in mind, why Ubuntu for Android Smartphone ?. We know that today's famous Android OS is a mobile solution and is designed for a touch interface on a handheld device like Smartphone/Tablet but it can't be used for Desktop so to use a Android smartphone as PC and to enjoy thousand of free apps, designed for Desktop OS.
The unique feature of  Mobile version of  Ubuntu OS is its "swiping way".  Swiping from all four edges of the screen play a big role in navigation.
Swiping in from the four different edges of the screen will let users switch apps and search for content. A short swipe from the left side of the screen brings up a dock of your favourite apps, while a full left-to-right swipe will pull up all of your open apps.
Swipes from the right let you flip back through the apps you're running. it looks like a nice new way of navigating your apps. From an overall design perspective, Ubuntu looks to offer a pretty dynamic home screen experience that's quite a bit different than Windows Phone, Android, or iOS.
Some features of the Ubuntu OS are:
Ubuntu and Android can run at the same time on the smartphone, without emulation or virtualisation, and without the need to reboot because both Ubuntu and Android share the same kernel (Linux).
When the Smartphone is connected to a desktop monitor, it features a standard Ubuntu Desktop interface (Unity).
When the Smartphone is connected to a desktop monitor , it enable to run standard Ubuntu Desktop applications, like Firefox, Thunderbird, VLC, etc.
When the Smartphone is connected to a desktop monitor , ability to run Android applications on the Ubuntu Desktop.
When the Smartphone is connected to a desktop monitor , you can make and receive calls and SMS's directly from the Desktop.
Pl see the video featuring all features of new Ubuntu OS. Please Click here.
Smartphone technology grows rapidly in the few years. It offers users to handle some computer function on their smartphone. The smartphone, nowadays, allows users to call and send message, access to the internet and gaming. The future of the mobile phone is estimated growing like the computer. It is estimated that people in the future can buy the smart phone without any operating system then install the most appropriate mobile OS according to the user choice and the most of them will prefer the OS which will provide solution of using their mobile phone as good as a PC also.
At present mobile version of Ubuntu is not released to download.
Category: Telecom, Telecom Gyaan
I am tehnocrate and love to share my views and technical knowledge on all types of topics related to telecom, social media and gadgets. I just love tea and food.