LG launches its latest flagship LG G3 having highest screen resolution, 2560 x 1440 pixels full HD display. Earlier to this, Oppo's Find 7 was the first smartphone which features screen of this much resolution and Lenovo is also ready to unveil new smartphone Vibe Z2 Pro, whose leaked info and images on web confirm 6 inch qHD display with highest resolution of 2560 x 1440 pixels.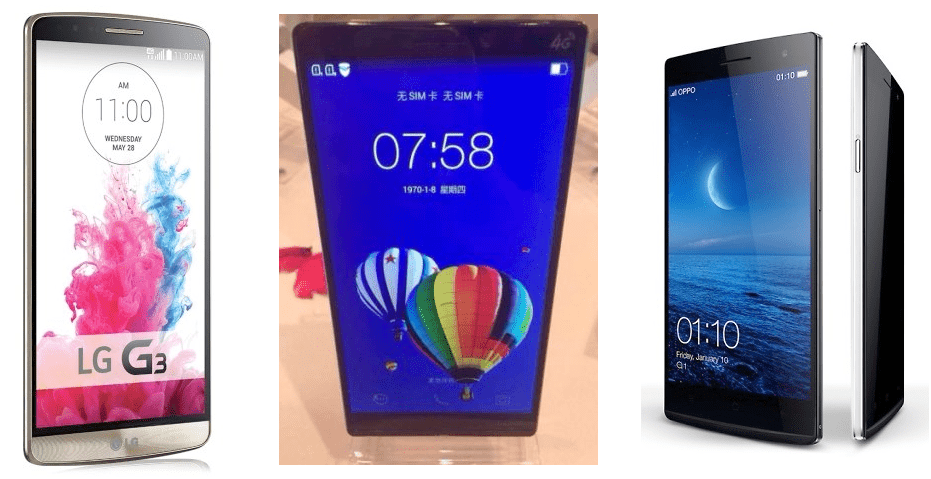 So now the competition has begin in 1440p displays smartphones. Besides highest resolution screen of LG G3 , what other features of this smartphone can attract you, let us see and compare it with other two, Oppo's Find 7 and Lenovo's Vibe Z2 Pro. The specs shown in below table for Vibe Z2 Pro is taken from leaked info on web and full specs will be known near to its launch.

So now are you ready to buy LG G3 or will wait for Lenovo's Vibe Z2 Pro ?
LG G3 is the lightest in weight and comes with 3GB RAM also but Vibe Z2 Pro would have bigger screen, more pixel camera and thinner. Oppo's Find 7 has almost same specs as LG G3 except OS although it has more powerful front facing camera.
Have you decided yet !!
LG G3 is open for pre-order at all major carriers of US, AT&T, Verizon, Sprint and T-Mobile. This device also support XLTE band of Verizon. The price is not yet revealed but we can guess the price by seeing the current price of Oppo's Find 7 which is currently on sale at Rs 45000 in India and at approx $565 in International markets.
Category: Mobile Phones
I have always been a fan of writing and love to share information on latest technologies, mobiles, gadgets and social media. Sharing and acquiring knowledge is a boon, do let's share as well as acquire it. I am very much fond of Coffee.