Is it the befitting reply to rivals ?, but in this rivalry, customer is clear winner. AT&T tried to poach customers of T-Mobile only by a offer of credit up to $450 but now T-Mobile even emerged a bigger poacher by offering credit up to $650 to customers of all mobile customers of Sprint, Verizon including AT&T of course.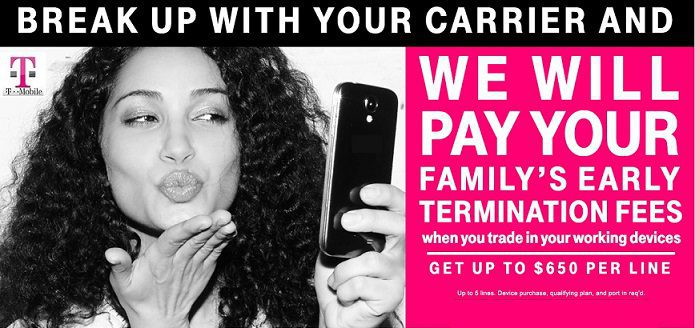 At CES-2014, Las Vegas, America's fastest growing wireless company T-Mobile unleased its Un-carrier 4.0 strategy.T-Mobile will pay early-termination fees (ETF) if you switch to its network from AT&T, Sprint or Verizon, giving consumers what Legere quips is a "Get Out of Jail Free" feature. "
Under the new Un-carrier 4.o the company has offered
Credit up to $300 if you trade-in your device with T-Mobile and subscribe for a wireless service.
Credit up to $350, company will pay your early termination fees of your existing carrier, on switch to T-Mobile.
Here is how this uncarrier 4.0 works. First of all you have to trade in your current devices to T-Mobile and have to susbribe to a postpaid Simple Choice Plan for instant credit up to $300 based on your current device. Chances are there you get more trade-in credit for your device purchased from current carrier with subsidies plan.
Now you can get a new device for zero down payment and can pay the cost of device in 24 equal monthly installments.
To get second credit, you have to mail your final bill received from old carrier to T-Mobile or upload it on www.switch2tmobile.com, confirming the details, T-Moible will send you additional payment, equal to your termination fee, up to $350 per line.
T-Mobile's new Un-carrier 4.0 has brought smile on the faces of families who have been stuck in a contract with no way out and are reluctant to switch carriers because of the hefty termination fees.
With a Simple Choice Plan from T-Mobile, families start with one line at $50 per month for unlimited talk, text and 500MB of 4G LTE data. They can add a second phone line for $30 per month, and each additional line is just $10 per month. In short, a family could get four lines for just $100 per month.
Category: Data Usage, World Telecom
I have always been a fan of writing and love to share information on latest technologies, mobiles, gadgets and social media. Sharing and acquiring knowledge is a boon, do let's share as well as acquire it. I am very much fond of Coffee.