"You have the control, you put coverage where you want it, in your basement or 30k ft up, you will have PERSONAL COVERAGE and that is the essence of #Uncarrier7". With this comment, Mr Legere, the CEO of T-Mobile today unveiled its most awaited #Uncarrier7 at an event in San Francisco, USA.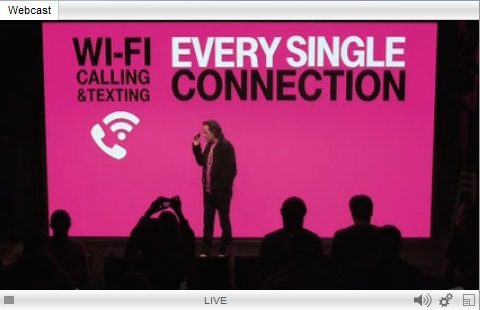 "Wi-Fi Un-leashed is a game changer.  This is like adding millions of towers to our network in a single day," said John Legere, president and CEO of T-Mobile. "The difference between us and the traditional carriers is that they'll do everything they can to make more money off you. We'll do everything we can to solve your problems, and today, that's about uniting Wi-Fi with our data strong network for unprecedented coverage."
Major announcements at  #Uncarrier7 events are as follows.
T-Mobile will provide better voice coverages through W-Fi where it's network doesn't reach. This will be provided by a Personal Cell Spot which is basically a ASUS made dual-band 1900Mbps Wireless AC router.
T-Mobile postpaid customers with good credit will be given Personal Cell Spot for free with a $25 refundable deposit but prepaid customers have to buy it for $99.
With the use of personal Cell Spot, customer will be able to make high quality Wi-Fi calls from their Wi-Fi enabled phones, whether it may generated from a basement.
Now onwards , T-Mobile will sell only Wi-Fi calling functionality enabled phones (iPhone 6 and iPhone 6 Plus both have Wi-Fi calling feature). T-Mobile will provide an update for existing old phones for this Wi-Fi functionality.
T-Mobile will provide Wi-Fi calling feature free to all customers but it will be password protected with Personal Cell Spot.
T-Mobile Customers also have an option to upgrade their old phone with a new Wi-Fi calling phone through JUMP for that T-Mobile open a page on its website on September 17
T-Mobile has also announced offering of free in-flight messages-SMS or MMS using the plane's Wi-Fi network through  a special partnership with Gogo. With this facility, at least T-Mobile customers may be get in touch with senders or they may chat with their dear ones in-flight. They can also be able to access their visual voicemail accounts. The service will be go live starting September 17, 2014
Here is the specs of Personal Cell Spot, for those who are interested.
Brand: ASUS
Model: TM-AC1900 dual-band router
3×3 wireless-ac
1900 Mbps
1x USB 2.0 port
1x USB 3.0 port
2 channels – 2.4GHz and 5GHz

802.11 a/b/g/n/ac

4x LAN ports
Works with most USB HDDs/Flash disks up to 2TB and supports read-write access for FAT16, FAT32, EXT2, EXT3 and NTFS
Source [T-Mobile]
Category: Uncategorized, World Telecom
I have always been a fan of writing and love to share information on latest technologies, mobiles, gadgets and social media. Sharing and acquiring knowledge is a boon, do let's share as well as acquire it. I am very much fond of Coffee.