T-Mobile is continuing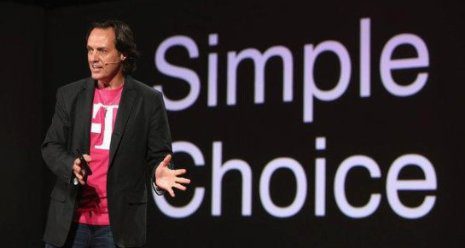 making efforts to lure wireless customers and this time the carrier is targeting business customers. The carrier will offer its most affordable 4G plans named Simple choice plans to business customer starting from 26 Aug.
For mid-sized business, if company takes 6 lines or more, Simple Choice plans, which don't require any annual contract, starts from $ 20 per month per line for unlimited talk, text and 500MB of 4G data and unlimited data plan can also be added to each line for a nominal additional fee of $50 per month per line. Although unlimited data is allowed by paying a fee of $50 but as per fair usage, tethering is imposed after 2.5GB of data usage.
T-Mobile will also offer Simple Choice Classic plan which has annual contract and include price of device provided by the carrier. Here plan starts with fee of $40 per month per line for unlimited talk, text and 500MB of 4G data. Further user can add unlimited data plan with tethering after 2.5GB of data by paying additional $70.
For small business, the carrier also allowed flexibility in taking connections as per requirement, first connection will be offered for $50 per month which allow user unlimited talk, text and 500MB of data at high speed of 4G. Second line will be offered at discounted price of $30 per month with same freebies as the first user enjoys. Third to fifth line can be added by paying just $10 per month per line.
Each line of small business have two option of adding additional data plan, either they can add 2GB plan or Unlimited plan. 2GB data can be added by paying additional fee of $10 per month per line while unlimited data plan will be offered for each line for $20 per month per line.
Let us look at Simple choice plan and simple choice Classic plan for business users.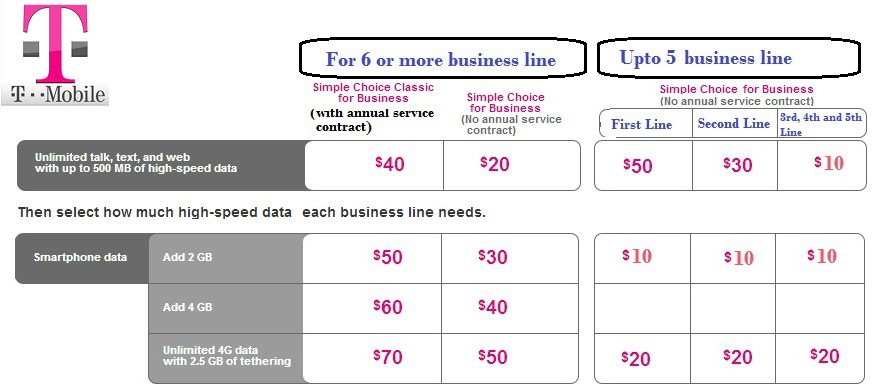 T-Mobile claims that these offer will save $20 per month per line as compared to AT&T and Verizon 4G plans for business, $10 per month per line in comparison to Sprint 4G plans. T-Mobile calculated the savings based on $20/mo device payment + Simple Choice plan + Data at $70/mo vs. AT&T Mobile Share (4GB), Verizon Share Everything Plan (4GB), and Sprint Everything Business Plan (Unlimited).
Verizon is also launching Verizon Max plan today along with Verizon Edge. The customer who will go for Verizon Edge, a device upgrade program and were enjoying unlimited data plans on their device, now they are offered two high data plans of 6GB for $30 and 8GB for $50 as per exclusive snap as shown below.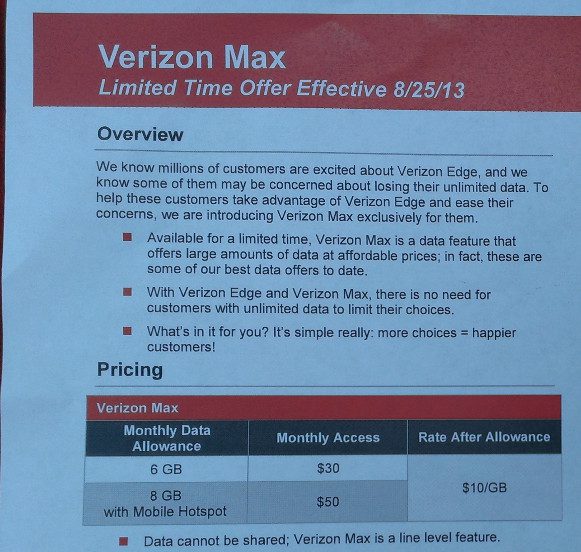 Now as compared above, will you prefer unlimited data plans of T-Mobile or limited data plan of Verizon Max, leave your opinion in Comments
Category: Data Usage, World Telecom
I have always been a fan of writing and love to share information on latest technologies, mobiles, gadgets and social media. Sharing and acquiring knowledge is a boon, do let's share as well as acquire it. I am very much fond of Coffee.