Announcement of uniform charging in Pay-As-You-Go plans by T-Mobile was just a precursor for even a bigger changes to come in suite of prepaid brands. The clue is taken from website of The Prepaid Expo which is organizing 3 days expo from August 18-20, 2014 at Las Vegas and from website of CTIA 2014, Super Mobility Week which is going to held on September 9-11, 2014 at Las Vegas.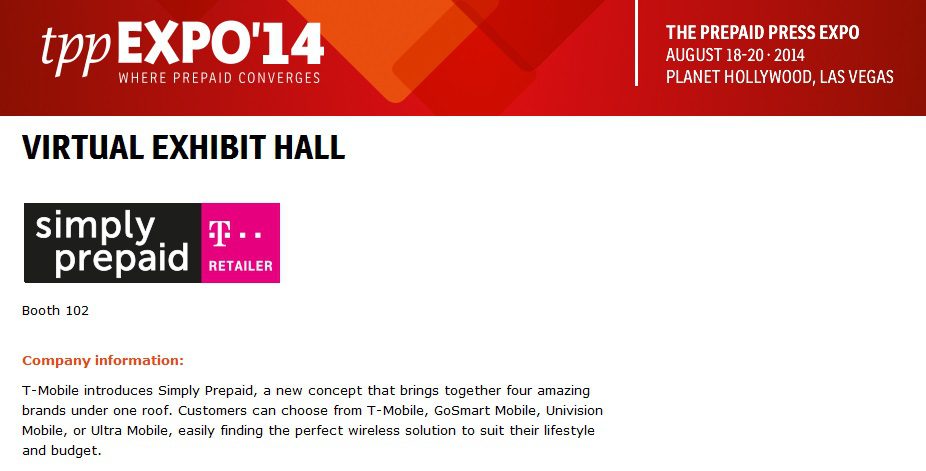 At these two events, T-Mobile is preparing to introduce a new prepaid brand "Simply Prepaid" which will bring its all existing prepaid brands viz. GoSmart Mobile, Univision Mobile, and Ultra Mobile as choices under the new umbrella brand. Interestingly T-Mobile has not yet clubbed its MetroPCS prepaid brands under Simply Prepaid branding.
The idea behind introducing a single prepaid brand "Simply Prepaid" may be simplifying its all prepaid brands as well as promoting a single brands instead of advertising all existing brands.
More details about Simply Prepaid will be shared as soon as it is announced by the carrier.
Category: World Telecom
I have always been a fan of writing and love to share information on latest technologies, mobiles, gadgets and social media. Sharing and acquiring knowledge is a boon, do let's share as well as acquire it. I am very much fond of Coffee.