Recently Swipe telecom, a California based a technology manufacturing company launched India's first 3D tablet to target kids and youth who loves playing games and specially loves 3D games at just Rs 5999 but now Swipe is offering this 3D tablet bundled with MTS data card.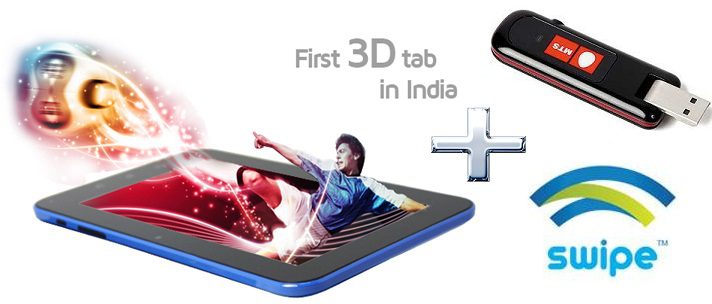 As per the offer, you have to pay Rs 6695 for this 3D tablet and you will get MTS data card free of cost with data usage of 3GB with validity of 30 days. As promotional offer you will also get 3D glasses and one branded watch. It is reported that this officer is just for limited period.
This 3D Tablet, known as "3D LIFE" (Model X74) great features which will definitely will be most liked by kids and youths, they can  take breathtaking experience of 3D gaming and 3D videos.
This 3D life tablet X74, a 7 inch TFT five point touch screen, runs on Android 4.03 Ice Cream Sandwich (ICS) operating system. It has Allwinner Boxchip  A13 Cortex processor on a blistering 1.5GHZ clock speed, 4GB internal memory and a 512 MB DD RAM. This tablet also support micro SD card expandable up to 32 GB.  This tablet can play videos for 5-6 hours at stretch and offers a large battery life with a 3400 mAH battery. This 3D LIFE  tablet also has a 2MP front camera that supports video calling. It may be noted that this tablet doesn't have any HDMI Port.
Category: Tablet
I am tehnocrate and love to share my views and technical knowledge on all types of topics related to telecom, social media and gadgets. I just love tea and food. Follow me on