If you just need 1GB of data plus unlimited talk & text, then your monthly bill could be merely $25. Isn't it time to cheer up !.
At CES-2014, Las Vegas, Sprint announced to introduce one innovative plan "Framily plan". Actually the word "Framily" invented by combining family, friends and others.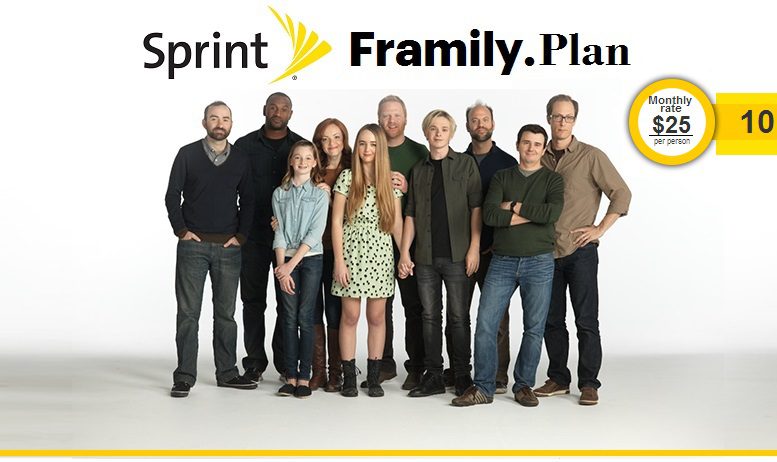 The new Framily starts with $55 for one line and with addition of each line, each customer in the plan will get discount of $5, i.e. if one more member is added to the plan, both will get bill of $50 per month, if third member also join then all three will get bill of $45 per month. Sprint allows maximum of discount of $30 in the plan so in the new framily plan, a group of 7 members will pay just $25 per month for service. The company also put the limit of 10 members in the framily plan.

Each customer in the plan is allowed for unlimited talk and text plus 1GB of data usage and all members will be billed separately and receive their own bills.
The Sprint's new "Framily Plan" will be available starting from Friday, January 10, 2014.
The new framily plan is customisable and customers who need more data can pay extra $20 per line for unlimited data, and that customers who want more data can pay an extra $10 a month per line to add 3GB more data.
If one member in the group want even more data then he/she may pay extra $20 for unlimited data. Customers with unlimited data plan are also eligible for a new phone every year at this price point.
Under the Sprint's new Framily plan, each member enjoy service at just $25 per month, this is the cheapest plan in US as compared to others family plans. For instance a similar family plan on AT&T costs $70 per month per member and a similar family plan on Verizon costs $90 per month. Customers in similar family plan on T-Mobile pay $50 per month for unlimited talk, text and 500MB of data.
If you are already on Sprint network with a discounted phone and you're eligible for an upgrade, you can change to the Sprint Framily Plan.
If you're not upgrade eligible, not to worry – you can change your plan to the Sprint Framily Plan by paying an additional $15/mo/line until you are upgrade eligible or after 12 consecutive months of billing on the $20 per month Unlimited data + Annual upgrade buy up, whichever comes first.
And for a limited time if you have purchased a discounted phone prior to January 10, 2014 and are not upgrade eligible, Sprint will waive the $15/mo/line service charge to move to the Sprint Framily Plan.
The strategy behind this "framily plan" may be that each Sprint customer act as an ambassador for the company and try to convince as many family, friends, neighbors and others to join you in signing up for a Framily Plan. After all, your goal is also to get service for $25/mo.
Source: Sprint
Category: Data Usage, World Telecom
I have always been a fan of writing and love to share information on latest technologies, mobiles, gadgets and social media. Sharing and acquiring knowledge is a boon, do let's share as well as acquire it. I am very much fond of Coffee.