Many Indian moible customers use more SIMs of different mobile operators that is why mulit SIM mobile phones are more popular in India. Apple should also consider to launch iPhones with multi SIM features, presently not a single model of iPhone support multi SIM.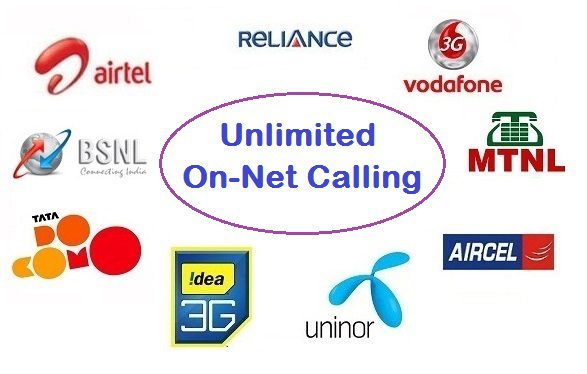 The reason behind using multi SIM is that many mobile operators offers cheap call rates or unlimited free call on their own network.
Let us see who is offering what.
Vodafone has just now launched a special recharge of Rs 99 in Tamil Nadu which allows their prepaid customers to make unlimited call on Vodafone network. This recharge has validity of 28 days.
Airtel offers unlimited on-net calls in night from 12PM to 6AM for Rs 7. This pack is valid for one night only.
Reliance offers unlimited local calling in night hours from 11PM to 6AM for 7 days at Rs 42. It also has STV of Rs 69 which allows making local and STD calls on-net for 7 days in night hours from 11PM to 6AM. RCOM also has STV of Rs 58 which offers unlimited local on-net calls and it comes with 28 days validity.
BSNL have STVs of Rs 164 which offers unlimited local and STD calls for 6 days. If you want validity of 30 days then you need to buy STV of Rs 699. The PSU has STV of Rs 344 for making unlimited local calls only and this comes with 27 days validity. Customers wanting longer validity, may go for STV of Rs 894 which allow them to make unlimited local and STD calls for 81 days.
Idea is offering unlimited on-net calls in the same line as Airtel is offering. Idea customer can buy night pack of Rs 7 to make unlimited on-net call from 12PM to 6AM, one night validity only.
Tata DoCoMo offers unlimited local calling to its prepaid customers for Rs 4, Rs 7 and Rs 48 during the night hours from 12PM to 7AM. All these STVs have validity of 1 , 3 and 28 nights.
Aircel don't have STV for pure voice calls, it has combo STV of Rs 299 which offers unlimited on-net calls for 28 days plus it adds 299MB of 2G data to your mobile phone.
Uninor has recharge of Rs 7 which allows their prepaid customer to make unlimited on-net local calls for 2 days. STV of Rs 58 and Rs 238 offer unlimited on-net local calls for 14 and 90 days respectively.
MTNL has STV of Rs 224 which allows unlimited local on-net calling for 30 days
So I hope you come to know that what your mobile operator is offering and what others are offering, if you are making mind to switch, mobile number portability is the best option.
Category: Call Rates
I have always been a fan of writing and love to share information on latest technologies, mobiles, gadgets and social media. Sharing and acquiring knowledge is a boon, do let's share as well as acquire it. I am very much fond of Coffee.