USA: T-Mobile's re-seller MVNO,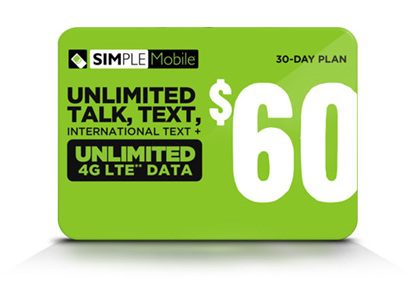 Simple Mobile has revamped its No-contact plans and it has included unlimited calling to mobile phones in Mexico, Canada, India and China plus 16 other countries. Customers are also allowed to make international calling to landlines phones of 65 countries. Roaming charges during traveling in Mexico has been waived to zero.
Now the new pricing of plans for 30 days are as follows, all plans also offer unlimited talk and text.
$25 for unlimited Talk and text, no data, can use home Wi-Fi for data.
$40 ($37.50 with auto pay) for first 4 GB of 4G LTE data and remaining data at 2G speed
$50 ($47 with auto pay) for first 5 GB of 4G LTE data and remaining data at 2G speed
$55 ($50 with auto pay) for first 10 GB of 4G LTE data and remaining data at 2G speed
$60 for unlimited LTE data
These plans of Simple Mobile are for individual and whole data is to be consumed by one customer only but if two members of family can share data, then they can choose recently launched two-line plan from T-Mobile for $80 that offers 6GB of 4G LTE data each line including all other features of T-Mobile's simple choice plans. It means, individual will get 6GB of data for just $40 only.
The most appealing offer of Simple Mobile is its unlimited plan for $60 while T-Mobile sells it for $95.
Whether you choose Simple Mobile or T-Mobile, you will use blazing fast network of T-Mobile.
Category: World Telecom
I have always been a fan of writing and love to share information on latest technologies, mobiles, gadgets and social media. Sharing and acquiring knowledge is a boon, do let's share as well as acquire it. I am very much fond of Coffee.