Reliance Communication (RCOM) has chosen Rev B EVDO services to offer data services in its non-3G circles and the company has started it from Chennai and Bangalore. The customers of these two metro can now enjoy high speed data services with 14.7 Mbps speed on Reliance Rev B service under its Pro 3 Plan.
Reliance is offering speed more than double of Tata Photon Max which offers up to 6.2 Mbps while it is almost one and half times as compared to MTS. MTS offers speed up to 9.8 Mbps to its customers using MTS Ultra service on its Rev EVDO network.
Reliance has four postpaid Pro 3 plans with monthly rentals at Rs 999, Rs 699, Rs 799 and Rs 499. Out of all these four plans, Plan Rs 999 is the most economical which offers you 40GB at 14.7 Mbps speed.
The details of all these four plans are given below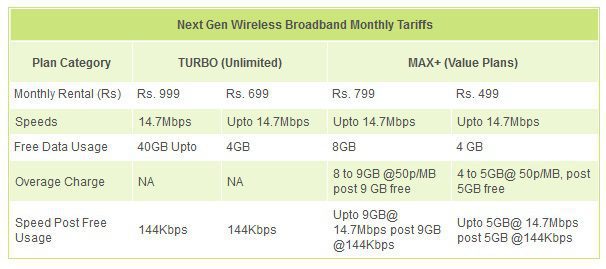 Customers can also choose Advance Rental Plan by which they can save up to 29%
MTS also offers 40GB data plan for Rs 999 but you have to consume 20GB in day time and rest 20GB in night time. MTS has another good plan with monthly rental of Rs 700 which allows you total 14GB free data (7GB in day + 7GB in night).
Tata DoCoMo has costliest data plan among all these three, it has 20GB plan for Rs 1000 and 30GB data plan for Rs 1250.
Looking at above, it is clear RCOM has brought best Rev B EVDO service with affordable plans.
Category: Data Usage
I have always been a fan of writing and love to share information on latest technologies, mobiles, gadgets and social media. Sharing and acquiring knowledge is a boon, do let's share as well as acquire it. I am very much fond of Coffee.