Till now, many blogs and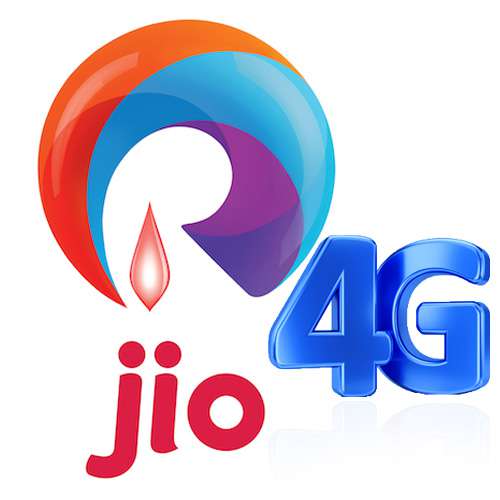 websites have compared the much hyped cheapest plans of Reliance Jio to all other Indian telecom operators. Meanwhile many other telecom operators have geared up with new launches.
Reliance Jio foray in with a big bang in Indian telecom market with its 'Jio Welcome Offer' which is now available from 5 September, 2016. Under this 'Jio Welcome Offer', people can get a free Jio SIM with unlimited access to data (4GB per day at 4G speed thereafter 128 Kbps), 100 SMS per day, unlimited free HD voice calls and video calls till 31 December, 2016 after which customer have to choose a recharge option from 10 Jio recharge packs having MRP of  Rs 19 to Rs 4999.
All these 10 recharge options have come in to effect from 5 September 2016 and the company offers truly unlimited free voice calls i.e. although voice calls will be put though by using data consuming VoLTE technology but it will not debit the data consumed for voice calls from your main data account.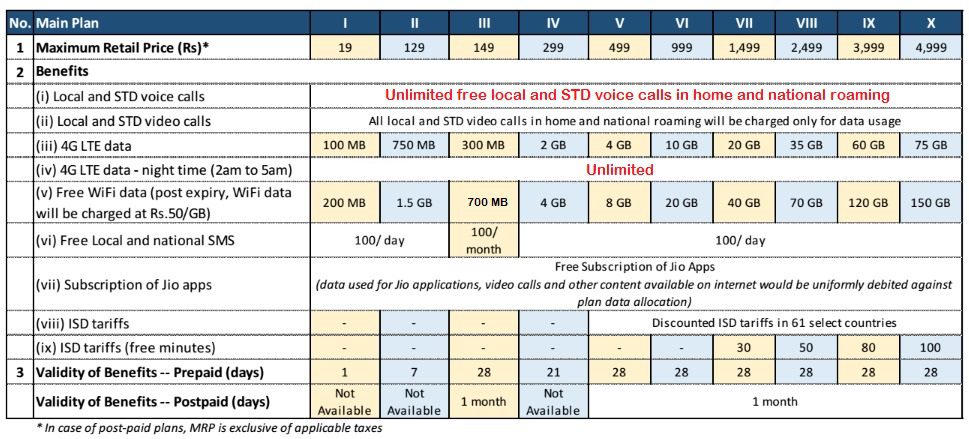 The entry level first data plan is of MRP Rs 149 per month which offers unlimited voice calls and 300 MB of 4G data. Customers can also use 700 MB of data through WiFi Hotspot of the Jio network and unlimited data usage in night between 2 AM to 5AM. This plan may not suitable for data savvy users instead who makes lot of calls, may attract to this plan.
Three recharge coupons having MRP of Rs 19, Rs 129 and Rs 299 have been also launched with validity of 1 day, 7 days and 21-days and offering 100 MB, 750 MB and 2GB of 4G data and 200 MB, 1.5 GB and 4GB WiFi Hotspot data.
In all plans, after expiry of free Wifi Hotspot data, if customer further use the WiFi hotspot data, then charges would be Rs 50 per 1GB for additional data usage.

Jio's other plans have MRP of Rs 499, Rs 999, Rs 1499, Rs 2499, Rs 3999 and Rs 4999 offers 4GB, 10GB, 20GB, 35GB, 60GB and 75GB of 4G data and double of it like 8GB, 20GB, 40GB, 70GB, 120GB and 150GB WiFi Hotspot data respectively. Customers can also use unlimited data during night hours between 2 AM to 5AM.
All these data plans have validity of 28 days and offers Unlimited voice calls all 24 hours on any network.
To lure youth, specially students, Reliance Jio has offered them 25% extra data usage in all its recharge options.
With these cheapest data plan Reliance Jio entered in the telecom market and other operators have started to match their plan so that they can retain their customer base. In this direction, Airtel has started offering at least 20% lower tariff for post-paid customers in the Rs 999 package, apart from nearly 33% enhanced data value under a new scheme.
Airtel has recently launched two new Data packs offering high data allowance at cheaper rates with longer validity priced at Rs 748 and Rs 1498. The features of these two data packs are as below.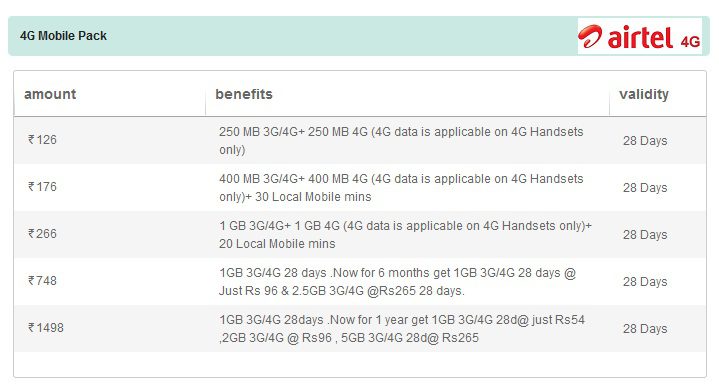 Airtel also has postpaid plans under the brand name Infinity with monthly rental of Rs 1199, Rs 1599, Rs 1999 and Rs 2999 and these postpaid plan offers unlimited voice calling plus 1GB, 5GB, 10GB and 20GB usage per month.
Idea have also launched the matching data pack as of Airtel for MRP of Rs 748 and Rs 1498 in its Himachal Pradesh telecom circle.
The two new data packs from Idea have been priced at Rs 1498 and Rs 748 and both offers 1GB of data with a validity of 12 months and 6 months respectively. But by opting these data packs, customers can recharge further with cheaper data packs and can choose cheaper data packs.
The customer having data pack of Rs 1498 can choose any one of three cheaper data packs 1GB @ Rs 52, 2GB @ Rs 97 and 5GB @ Rs 249. While the customers of data pack of Rs 748 can choose any one of two data packs of 1GB @ Rs 97 and 2.5GB @ Rs 249
Vodafone is also revising tariffs on its plans which are above Rs 1499 although it has postpaid plans of monthly rental of Rs 1999 that offers unlimited voice calling and 8GB of data usage.
Right now BSNL is the only Government owned PSU giving tough fight to Reliance Jio with its newly launched data plans of Rs 549 and Rs 1099 data STVs with offerings of 10GB and truly unlimited data respectively for 30 days over its country wide network while Reliance Jio may face coverage problem in many part of the country.
MTNL Mumbai have also matching data packs with Reliance Jio, customer can look MTNL's recently launched three long validity data packs which offers quite a high volume of data to be consumed withing one year. The data packs at price of Rs 849, Rs 1299 and Rs 3999 offers 6GB, 12GB and 50GB data usage at 3G download speed for one full year without any restriction on monthly usage.
Category: Call Rates, Data Usage
I have always been a fan of writing and love to share information on latest technologies, mobiles, gadgets and social media. Sharing and acquiring knowledge is a boon, do let's share as well as acquire it. I am very much fond of Coffee.