Reliance Communication, who have initiated a new era by launching contract plan in India for iPhone 5C and 5S for an attractive EMIs of Rs 2599 and Rs 2999, got a tremendous response from Indian customers and now operator has backlog of more than 50000 pre-orders.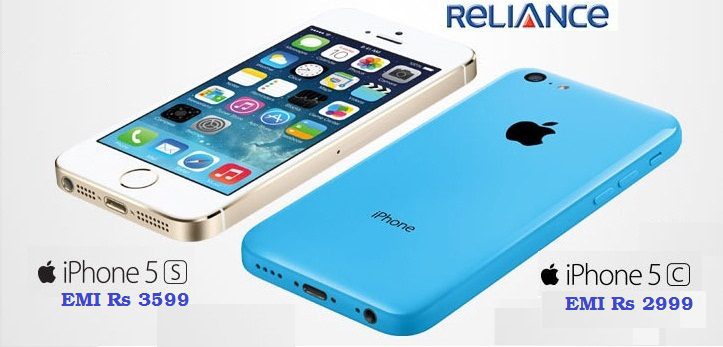 As per theory of demand & supply, Reliance Communication has increased the EMI by Rs 400 and Rs 600 per month and now EMIs are Rs 2999 and Rs 3599. All other features of the offer are same. A new customer, who want iPhone 5C or 5S, have to enter an agreement for 24 months and he/she will be offered freebies of unlimited STD & Local Calls, SMS (max 3000 per month), 3G Data, & Roaming.
Let us decode the new offer from Reliance for iPhone 5C and 5S
As per above table we see that latest prices of smartphone iPhone 5C and 5S has been reduced drastically in e-commerce site but RCOM have increased the EMI by Rs 400 and Rs 600 thereby the total amount spent on the offer in two year have increases by approx 20%
Further we that difference in price of iPhone 5C as compared to RCOM offer starts from Rs 35476. If we divide this amount by 24 we get the extra amount which you give to RCOM for the freebies offered by RCOM with this offer and this amount also starts from Rs 1478.
It means the customers whose monthly bill comes more than Rs 1478, this offer is beneficial to them otherwise it is better to buy smartphone from the open market and subscribe to any service plan as per your need.
Usually a postpaid bill for a moderate use comes around Rs 900 per month !!
One more point to be considered seriously : Currently this offer is available for credit card holders of ICICI, Citibank, Standard Chartered and HDFC bank remember that your credit card will be swiped for the whole amount, but you have to make payment of EMI Rs 2,999 or Rs 3,599 every month for 24 months towards you credit card, depending on the model you choose. If you miss any EMI, bank charges 30% to 36% interest.
Category: Call Rates
I have always been a fan of writing and love to share information on latest technologies, mobiles, gadgets and social media. Sharing and acquiring knowledge is a boon, do let's share as well as acquire it. I am very much fond of Coffee.